Vegetarian ice cream fans might get away with a little animal dairy in their ice cream, but those who eat a vegan or lactose-intolerant lifestyle must turn to recipes for soy ice cream. Using soy or coconut milk, or cream, these desserts offer just as much flavor without any protein from animal sources like milk or eggs. Though ingredients vary widely, a basic recipe includes soy milk, soy creamer, sugar and a dash of salt, along with whatever flavorings are needed to add flavor.
Basic ice cream that includes dairy products like milk and eggs are made with just a few ingredients beyond that. A recipe for vanilla ice cream, from chef David Lebovitz's book The Perfect Scoop, makes about 1 quart (about 0.94 l) of ice cream with 1 cup (about 250 ml) of milk, 2 cups (about 500 ml) of cream, five egg yolks, 0.75 cup (about 150 g) of sugar, a split vanilla bean, 1 tsp. (about 5 ml) of vanilla extract and a dash of salt. Vegans could live with themselves after using this recipe.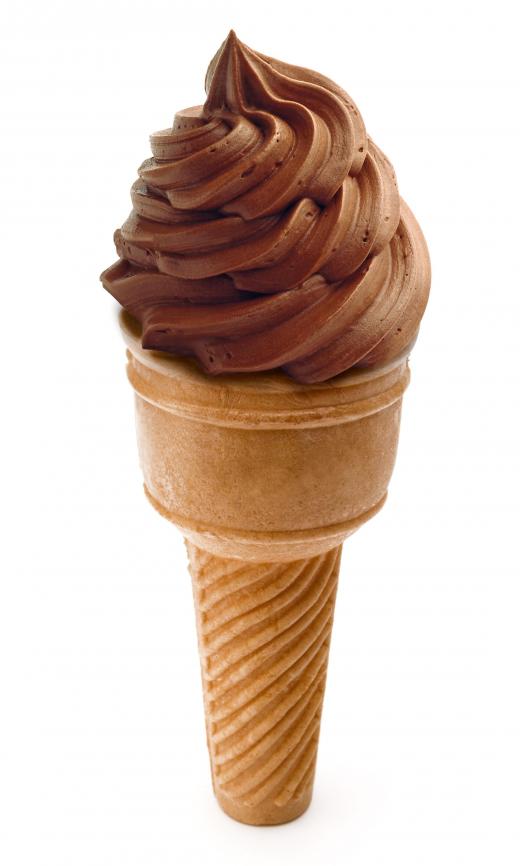 Instead, key substitutions are needed for the milk and eggs. A simple recipe for vanilla soy ice cream, at the All Things Ice Cream Web site, uses 2 cups (about 500 ml) each of soy milk and soy cream, the same amount of sugar and vanilla, but also 2 tbsp. of arrowroot slurry. This latter ingredient replaces the egg as a vegan thickener, readily available at health and whole food stores.
The process for making soy ice cream is not much different from any other way of making ice cream. A dedicated ice cream maker will make it creamy and soft; a freezer-made variety will have a hard-packed texture. This process begins by mixing a little soy milk with the arrowroot powder until it forms a paste. Then, the milk, cream and vanilla bean are mixed, quickly boiled, and simmered for a half-hour. The bean shell is removed from the mixture, the sugar goes in, and the liquid is boiled again. Arrowroot can be added when the boiling begins again, as soon as the pan has been removed from the heat. This mixture is then cooled and frozen, either in an ice cream machine or with constant stirring in the freezer.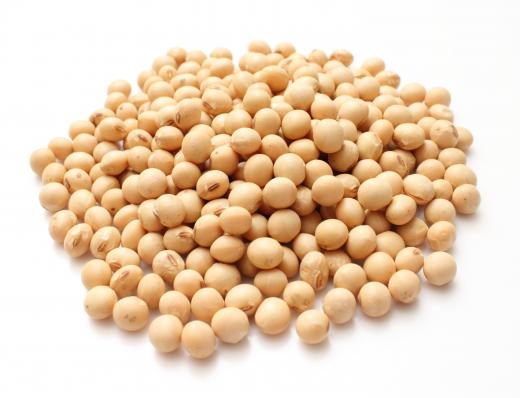 Another way for ice cream-loving vegans to indulge in frozen desserts is by making sorbet. This fore-goes the dairy and egg for fruit juices and pulps. Those who still crave the creaminess of ice cream, however, can kick their soy ice cream versions up with as many ingredients as can be found in regular ice cream — from customary chocolate and strawberry to butter pecan and cookie dough.
AS FEATURED ON:
AS FEATURED ON:








By: m.u.ozmen

Chocolate soy ice cream.

By: Unclesam

Arrowroot, which is sometimes included in soy ice cream.

By: terumin

Soy beans.

By: 3dsguru

Soy milk is used to make soy ice cream.

By: lingill

Soy ice cream can be made at home in an ice cream maker.

By: rimglow

A split vanilla bean can be added as a flavoring for soy ice cream.