Terrine is a French meat loaf dish made with ground or finely chopped meat and served at room temperature. The name also refers to the covered, glazed earthenware cooking dish that is used to cook the meatloaf and serves as the mold. It takes quite a bit of time to make this type of meatloaf, because the meat mixture must be marinated in a wine-and-herb mixture and left in a refrigerator for a day, then it must be cooked and cooled the next day, then it is left to sit for as long as two days for proper pressing to occur. Originally created as a hearty meal for French laborers, this dish has evolved into a fancy meatloaf that is served even in the most upscale French restaurants.
Cooking Process
When a cook makes terrine, the meat mixture is placed into the dish, which is covered and placed into a hot water bath called a bain-marie. This uses very hot — but not boiling — water so that the heat is evenly distributed throughout the dish and the different meats cook without browning. A flavorful jelly forms in the dish after it cools.
When the meatloaf is cooled, it must be pressed. Pressing involves placing a heavy object on top of the dish while it stays in the refrigerator for as long as a few days. This pressing method releases trapped air pockets that keep the meat from being smooth.
Elegant French restaurants often layer herbs decoratively in the meat to make the terrine an attractive food item. Traditionally, less-expensive meats such as fatty pork as well as wild game birds such as grouse or partridge were used to make this type of meatloaf. Restaurants, however, are likely to use duck, truffles and goose livers to complement the base meat.
Variations and Similar Food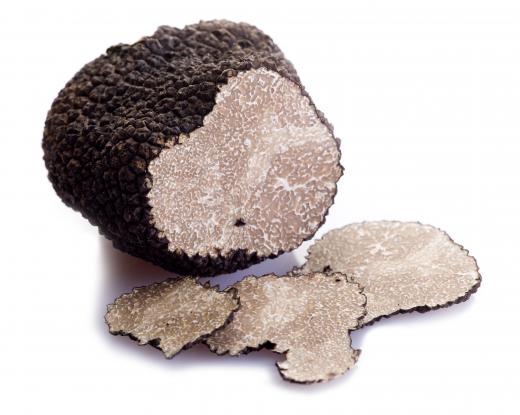 Some cooks use chicken and vegetables or even cheese in their terrines. Seafood loafs, which can be made with a variety of seafood, also are fairly common. Many variations can be made in a terrine dish, but they would be more accurately called casseroles if they are baked in an oven rather than cooked in a bain-marie.
Pâté also is a French blend of meats, and it is often considered the same as terrine. The main difference is that pâté typically consists of meat that is more finely ground, often into a paste-like texture. Terrine, on the other hand, usually contains meat that is more coarsely minced.
AS FEATURED ON:
AS FEATURED ON:








By: illustrez-vous

A terrine may have a rough texture to complement its complex flavors.

By: Martin Turzak

A terrine of goose or duck liver will have a fine texture. Note the gelatin that has formed at the base of the terrine slice. Terrine is usually served as a starter course, with simple accompaniments.

Black truffles may be used in a terrine.