What is the Dessert Called Buckle?
Buckle is a dessert which combines fresh seasonal fruit, a rich cake batter, and a streusel topping. The result is a rich, dense cake with a moist crumb which is sometimes compared to coffee cake. It is an excellent summer dessert, and can be served hot or cold, plain or dressed with drizzles of sauce. Making buckle at home is relatively easy, and a great way to use fresh fruit.
The origins of buckle are a bit mysterious. The dish has been in the United States for centuries, suggesting that it may have been developed by colonists. Buckle is extremely popular in New England, where it is often made with blueberries. While blueberry buckle is a classic version, the dessert can also be made with peaches, nectarines, raspberries, and any other fresh fruit that can be imagined. Many cooks mix several types of fruit in their buckle.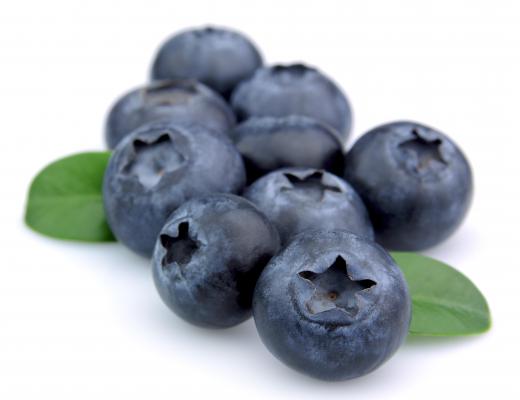 The base of buckle is a rich cake batter, which is sprinkled with fresh fruit. Some cooks prefer to split their batter, layering half in the bottom of the pan and mixing the other half with the fruit before pouring it in. The fruit is topped with a streusel mixture. During the baking process, the cake batter rises up around the fruit, encasing the fruit in batter and causing the streusel to buckle, creating a distinctive crinkly appearance.
To make buckle, start by selecting good seasonal fruit. While you can use frozen fruit, the dessert will not be quite the same. Always wash fruit before using it, and while the fruit is draining, start working on the other components of the buckle.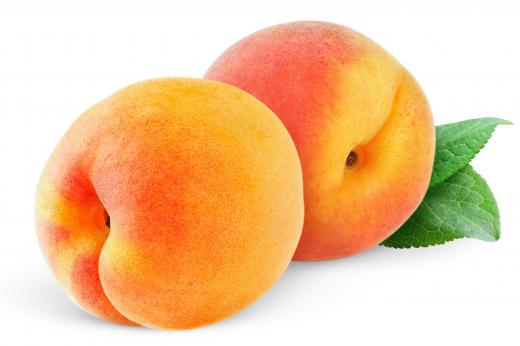 Sift one and ¼ cups flour together with ½ cup sugar, one and ½ teaspoons baking powder, and ¼ teaspoon salt. Set aside and beat ½ cup butter until soft before adding one egg, 1/3 cup milk, and ½ teaspoon vanilla. Mix the wet ingredients with the dry ingredients, and pour the batter into an oiled eight inch (20 centimeter) square baking dish. Top with the fresh fruit, and add a streusel topping of ½ cup sugar, 1/3 cup flour, ¼ cup softened butter, and one teaspoon of cinnamon. The streusel will form a crisp sugar coating as the buckle bakes.
Bake the buckle at 350 degrees Fahrenheit (180 degrees Celsius) for 45 minutes, until a toothpick inserted into the buckle comes out clean. Serve from the pan, plain or topped with whipped cream, ice cream, or sauces of choice.
AS FEATURED ON:
AS FEATURED ON:








By: margo555

Blueberries, which are often made into buckle.

By: Anna Kucherova

Nearly any fruit, including peaches, can be used in a buckle.

By: Natika

Cinnamon is often used to season buckle.