What is the Difference Between Crisps and Chips?
The difference between crisps and chips is quite varied, depending on where in the English speaking world one is located. The varying definitions which have emerged for these two terms illustrate the immense divergence of the English language, and in the way in which concepts disseminate between English speakers and nations which use English. Of course, for the person puzzling over the packaging in the snack foods aisle, the distinction between the two may be less academic in nature.
In the United States, thin slices of potato which are fried and served cold are known as potato chips, while slices or wedges of potatoes which are fried and served hot are known as fries or French fries. A "crisp" in American parlance is a fruit dessert with a sweet crumb topping, and has absolutely nothing at all to do with potato products. Canadians also use the potato chip and French fry terminology, as do some Europeans.
Great Britain and Ireland refer to potato chips as "crisps," and fries as "chips." In some areas, speakers of British English may talk about "chips" when they refer to thick potato wedges, and "fries" when they refer to thin potato strips, sometimes known as "shoestring potatoes" in the United States. One way to remember the distinction between crisps and chips in Britain is to recall one of the most famous dishes of this region: fish and chips, which is made with pieces of battered fried fish and potatoes, all served hot.
In New Zealand, Australia, South Africa, and other regions with a recent and active British influence, people have various ways of talking about crisps and chips. In some areas, "crisps" is used as a blanket term for all fried potato products, hot or cold, and people may talk about "packet crisps" when they want to refer specifically to cold fried potato slices. "Chips" may be used to discuss things like corn or tortilla chips, which are made from materials other than potatoes.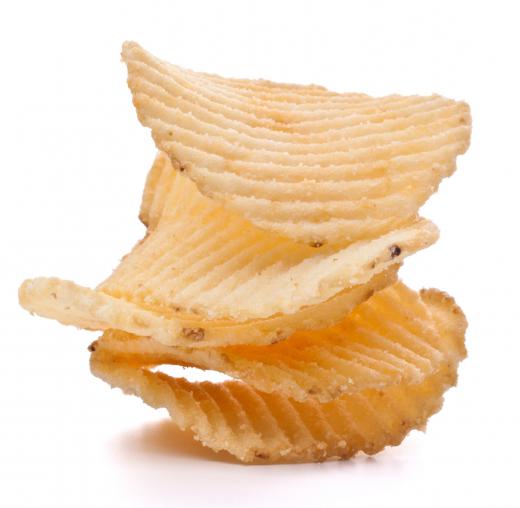 Potato snacks are popular in many regions of the world, as the plethora of flavors available indicates. Visitors to regions with unfamiliar terminology may find themselves accidentally ordering the wrong thing, or they may be quite confused over the labeling on supermarket shelves and in restaurants. People who are uncertain about the distinction between crisps and chips in the nations they visit should definitely not be afraid to ask for clarification from a native.
AS FEATURED ON:
AS FEATURED ON:








By: Natalia Merzlyakova

Potato crisps have a distinctive "saddle" shape.

Potato chips, or crisps.

By: Natika

Potato chips.

By: robynmac

Thick potato wedges are referred to as "chips" in some places.

By: Whitebox Media

In Great Britain, French fries are "chips."

By: anjelagr

Snacks that are made using potatoes are popular in most regions of the world.