What Is the Difference between Dill Weed and Dill Seed?
Dill seed is the fruit of the dill plant, while dill weed refers to the leaf and stem of the same plant. Dill seed is also known as seed dill and dill weed is sometimes referred to as leaf dill. This plant is in the family Apiaceae, which includes anise, caraway, carrot, celery, chervil, coriander, fennel, parsley and parsnip. The Apiaceae family has over 3,000 members, including the poisonous hemlock. Although part of the same plant, dill seed and weed are so different that expert cooks caution never to substitute one for the other.
Dill weed is herb-like, while the seed is spice-like; the seeds have a stronger flavor than the weed. A fast easy way to use dill in your menus is to add fresh chopped dill to softened butter and use it as a spread on crusty bread or melt the butter as a dip for grilled seafood. Leftover tuna or egg salad makes a great appetizer or snack when put onto crackers and topped with a sprinkle of dill seeds. Fresh dill weed stores well in plastic bags in the freezer, while dill seed should be kept in a covered container in a cool dry place. Dried dill weed is less flavorful than fresh, but holds up better in dishes needing long cooking times.
Although much maligned in French and Italian cooking, which favor fennel, dill weed and seed are widely used in Russian, German, Indian, and Scandinavian cooking. Dill seed and weed are used in distinctly different ways, although both may be used together in foods such as pickles, salad dressings, vinegars, and sauces. The use of this herb in dishes such as potato salad is fairly common in the United States. Dill seeds are used in meat dishes in Indonesia and Malaysia, while dill weed is commonly used in rice dishes there. The seeds are used in condiments in Asia and in breads in Sweden.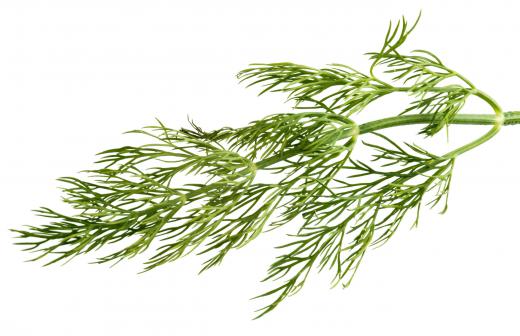 The dill plant is bright yellow-green in color, with airy flowered heads and feathery spindly leaves. The heads, called umbels, look like upside-down umbrellas. It grows up to 3 feet (0.9144 meters) tall and imparts a lemony-pine essence with flavors reminiscent of family members caraway and fennel. Its fruit, referred to as seeds, are brown, flat, and oval-shaped. Dill seed contains more oil than dill weed and the seed oil is greasier and stronger tasting than dill weed oil.
Lesser-Known Answers to "What Is Dill Seed?"
It's no secret that dill seeds often complement bread, soups and vegetable dishes, thanks to their intense flavor. They also may be used as a substitution for caraway seeds, as ingredients in many herbal remedies, and as agents to address personal health and hygiene issues, including bad breath and insomnia.
A Substitution for Caraway Seeds
Many cooks turn to dill seeds if they don't have caraway seeds in their spice racks or drawers. Caraway seeds are known for their nutty sharpness and hints of anise, citrus and pepper. Their distinctive flavor and high concentration of essential oils align them closely with dill seeds' qualities. As with dill seeds, cooks can add them to bread, soups and vegetable dishes.
An Ingredient in Herbal Remedies
Dill is known best as a culinary spice, but people have also used it for herbal remedies throughout history. For example, some practitioners have applied dill seed to the mouth and throat to reduce pain and swelling from inflammation. Others believe dill seeds' chemicals might help relax muscles, fight bacteria and increase urine production.
A Digestive Agent
Dill seeds have powerful digestive properties and contain flavonoids and monoterpenes that act as anti-bacterial agents. Another lesser-known use for dill seed is a hot tea that supports the digestive system. Some health practitioners steep rinsed dill seeds in boiling water before straining the mixture and drinking it once it cools.
An Excellent Source of Calcium
One tablespoon of dill seeds provides 8 percent of the recommended daily value for calcium, making it a natural addition to dishes that can help bone health. People with osteoporosis, for example, may consider adding a dill seed to their diet and dishes.
An Anti-Insomnia Aid
The name dill means to "calm or soothe" and hints at its connection to good sleep. Dill seeds are packed with enzymes and vitamins, allowing dill to act as a sedative and relax the body. A fun fact: The Greeks used dill as a sleep aid, covering their eyes with the plant.
A Bad Breath Combatant
Chew on some dill seeds or sip on their tea for improved breath odor and digestion. Dill seeds' carminative properties that relieve or prevent flatulence help combat bad breath.
Lesser-Known Answers to "What Is Dill Weed?"
Like dill seed, dill weed has a variety of uses outside of the culinary realm. While many people connect dill to dishes and dips, it can also function as an anti-infection aid, an overall health booster and more.
A Subsitute for Tarragon
Just as dill seeds make a worthy substitute for caraway seeds, dill weed makes an excellent swap for tarragon. Dill has a similar anise finish to tarragon, making it an easy substitution in the kitchen. Experts recommend using equal amounts of dried or fresh dill to substitute for dried or fresh tarragon.
An Anti-Infection Aid
Fresh dill weed is an excellent source of antioxidant vitamin C. Approximately 100 grams of the weed provides about 140 percent of the daily value for the vitamin, which helps people resist infection.
A Herb for Healthy Eyes and Skin
Thanks to it containing 257 percent of the daily value for vitamin A, dill weed helps maintain good vision and healthy skin. It's also helpful in protecting against oral cavity and lung cancers.
A Health Booster
In addition to vitamin A for healthy eyes and skin, dill contains many nutrients that boost humans' overall health. Here are a few examples:
Calcium
Folate
Iron
Manganese
Potassium
Riboflavin
Vitamin C
Minerals calcium, copper, iron, manganese and potassium play a critical role in supporting and regulating the human body's digestion, growth and development, and heart rate. For example, potassium makes up body fluids that control blood pressure.
A Cholesterol Controller
A green plant free of cholesterol and low in calories, dill weed is an excellent addition to dishes to help control humans' blood cholesterol levels. The following factors contribute to its cholesterol-controlling power:
Antioxidants
Dietary fibers
Vitamins
A Cosmetics Additive
Both dill seeds and weed contain essential volatile oils, including eugenol, which people sometimes use in therapeutic settings due to its antiseptic properties. In addition to eugenol, dill includes the following essential oils:
D-carvone
DHC
Dillapiole
Limonene
Myristicin
Terpinene
Thanks to its essential oils, dill weed provides a valuable additive for many manufacturers to add to their cosmetics and fragrances. Its antifungal and antimicrobial properties help it keep bacteria at bay.
AS FEATURED ON:
AS FEATURED ON:








By: Andrey Starostin

Dill seed.

By: Viktor

Dill weed.

By: Natalya Korolevskaya

Cucumbers can be fermented in a brine solution with dill weed or seed to make sour pickles.

By: SunnyS

Both dill seed and dill weed may be used to make salad dressing.