What Is the Food Service Industry?
The food service industry refers to any company or business essential to the preparation and distribution of food products outside of the home. Components of this industry include food service distributors, counter and table servers, and food service providers. All of these companies and staff are dedicated to making food products or serving these products to customers. The very start of the food service industry is credited to restaurants that began in France during the 18th century.
The food service industry has many facets. Restaurants, pubs, and bars are all a part of it. These establishments fall under the category of counter and table service. The food is typically prepared by a cook or chef and is presented by wait staff. Alternately, patrons can serve themselves from the counter or buffets.
Table service is common in restaurants and bars. There are varying types of table service available. Bottle service is strictly for serving drinks. Silver service requires the waiter to serve the food from trolleys and platters onto the diners' plate at the table.
Food service providers and distributors are those companies that provide food products to restaurants, grocery stores and catering companies. There are many different food service providers. Some providers specialize in specific products, while others provide a wide range of food choices. These companies will deliver the products directly to the store at prearranged times.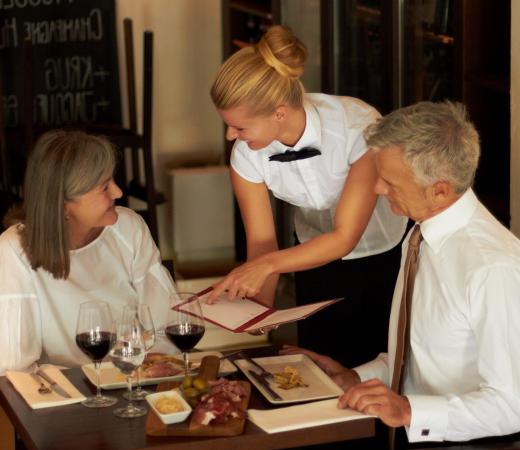 Another aspect of the food service industry are those companies that make the equipment needed to produce, transport, store, and serve food products. This type of equipment ranges from large freezers and ovens to the small appliances sold at kitchen stores. Equipment is available as industry grade equipment. Some is made for large manufacturers and other versions made for smaller food providers.
The types of food products made will depend upon the local culture. Spending, purchasing, and product use is tracked by companies to uncover current trends and predict what will be popular in the future. Each food service provider will target specific types of customers. The food service industry is one of the largest employers in the United States, with more than 60 percent of employees younger than 30.
AS FEATURED ON:
AS FEATURED ON:








By: Marius Graf

Pubs and bars are part of the food service industry.

By: Yuri Arcurs

Full service restaurants are part of the food service industry.

By: .shock

Buffet-style restaurants are part of the food service industry.

By: Warren Goldswain

Full- service restaurants involve more frequent interactions between customers and employees than fast-food or limited-service venues.

By: Daddy Cool

Bars often offer counter service, which places them in the food service industry.