True tomato vinegar is made by fermenting the juice of tomatoes and allowing it to age. The process for making this type of vinegar is the same that is used to make more common vinegars such as wine or grain vinegar. Tomato vinegar has a strong tomato flavor that goes well with tomato-based dishes, such as tomato sauces. It is also possible to make tomato vinegar by adding fresh tomato juice to other vinegars, such as balsamic or red-wine vinegar, in order to make these vinegars taste like tomatoes.
The main ingredient in a true tomato vinegar is tomato juice. This juice is made by removing the skins from tomatoes and then pressing the juice from the flesh. It is possible to use the juice straight or to cook it with water. Any type of tomatoes can be used to make vinegar and different varieties will make vinegars with slightly different flavors.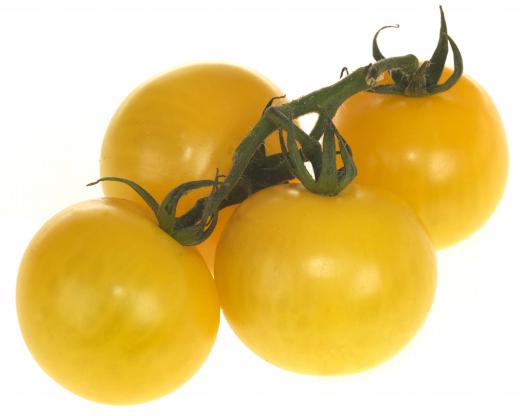 Once the juice is ready, yeast must be added to it. Yeast is a single-celled living organism that feeds on the sugar in the juice. As a waste product, yeast excretes alcohol. All vinegars are made by first transforming juice or mash into an alcoholic beverage. It takes a couple of weeks for the tomato juice to contain enough alcohol in it to transform it into vinegar.
After the tomato juice has been turned into tomato wine, it must be exposed to air so that the alcohol can be transformed into acetic acid. This process can be sped up by adding a mother of vinegar, which is a gelatinous substance that is filled with the type of bacteria that consumes alcohol and excretes acetic acid. All vinegars will naturally form their own mother as they are fermenting, making it easy to make a new batch of tomato vinegar from an old batch. While the tomato wine is being transformed into tomato vinegar, it should be kept warm, exposed to the air and, usually, covered with a cloth to keep it free of foreign material.
Tomato vinegar is ready after about a month. The mother of vinegar needs to be strained out completely so that the vinegar does not continue to sour. Once it is ready, the vinegar has a strong tomato flavor, similar to the flavor of sun-dried tomatoes. It can be added to pastas, soups, salad dressings, or meats to give these types of dishes a sour, tomato-like flavor.
AS FEATURED ON:
AS FEATURED ON:








By: martinlee

Any type of tomato can be used to make vinegar.

By: Kondor83

Tomato vinegar goes well with tomato-based dishes.

By: valery121283

Tomato vinegar can be used as a salad dressing.

By: Pixel Embargo

Tomato vinegar is used in the creation of ketchup.