Vegan ice cream is a type of dessert made without any animal ingredients. This is typically considered a substitute for regular ice cream for those who cannot or do not eat animal or animal-derived products, including eggs, milk, cream, or honey. There are several brands of vegan ice cream available on the consumer market, as well as some ice cream parlors that create special vegan flavors on a regular basis.
The primary issue in creating vegan ice cream is finding a base ingredient that makes a decent alternative to milk and cream. There are several types of vegan based used in commercial products, though none taste identical to regular ice cream. Some milk substitutes are common ingredients, including almond milk, rice milk, and soy milk. In terms of texture and creamy flavor, some cite coconut milk as the absolute tastiest base, though this does come at the price of a high fat content.
Vegan ice cream can be sweetened with many different substitutes for honey and even for sugar. Some vegans do not eat processed sugar as it may go through a process known as bone-char, which uses ground animal bones to whiten the color of the sugar. Maple syrup and maple sugar are popular sweeteners, as are various sugar substitutes.
Thankfully for ice cream fanatics, nearly every ice cream flavor can translate into a vegan format. Berry vegan ice creams have a delicious hint of sweetness and tang from fresh blackberries, raspberries, or strawberries. Chocolate vegan ice creams use lactose-free cocoa and cocoa powder to create rich, deep chocolate flavors. Even rocky road, which may be normally off-limits due to the presence of gelatin in most marshmallows, can become a vegan treat by substituting vegan marshmallows made with pectin.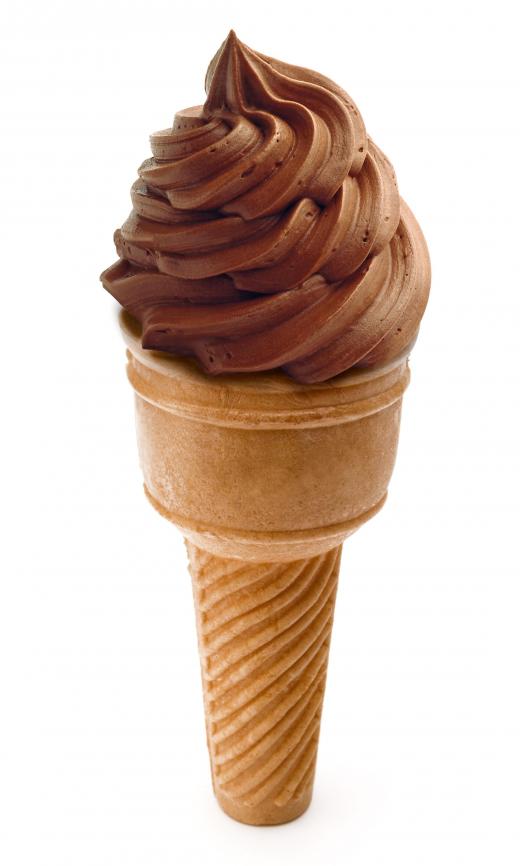 Vegan ice cream is not only for those who avoid animal products by choice. Lactose-intolerant people may be able to find ice creamy joy once again by indulging in these dairy-free flavors. Many vegan product lines also utilize organic and fair trade ingredients conscientiously, meaning that those who are concerned with sustainable environmental products and social justice can happily enjoy a double-fudge vegan sundae as well.
Ice cream that meets vegan standards can be found at many health food grocery stores and even some ice cream shops. Be sure to check ingredients carefully, especially if anyone planning to eat the ice cream has allergies to soy, coconut, or nuts. Vegan ice cream typically retails for about the same price as regular ice cream, though use of organic or fair trade ingredients may come at a slight premium.
AS FEATURED ON:
AS FEATURED ON:








By: dim@dim

Vegan ice cream.

By: m.u.ozmen

Soft serve vegan ice cream.

By: M.studio

A scoop of vegan ice cream.

By: 3dsguru

Soy milk is commonly substituted for cow's milk.

By: bibi

Vegan ice cream is made without using any dairy ingredients that come from cows.