Yeast is a single-celled fungi somewhat related to mushrooms. The word comes from the Old English "gist," meaning bubble or foam. There are several hundred species identified by science, but one type, Saccharomyces cerivisiae, has been used in baking and brewing for thousands of years.
In Egypt, archaeologists have discovered evidence of breweries and bakeries that used yeast up to 4,000 years ago. Yet until the 19th century, no one was quite sure how the organism worked or what it was. In medieval England, the resulting foam on beer was even believed to have miracle properties, and called godisgoode, which means "God is good."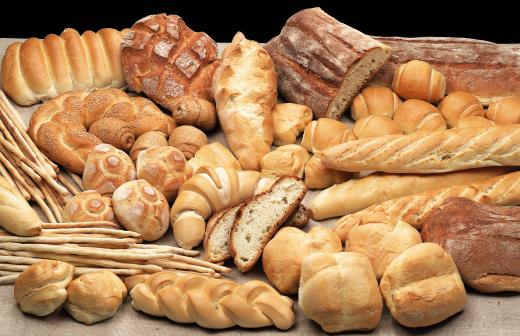 In 1857, Louis Pasteur published a paper proving that yeast was a living organism, and that the foaming and rising it caused was actually a fermentation process. The organisms consume oxygen and exhale carbon dioxide, just like humans. When combined with gluten (the protein created when wheat is mixed with water) the fungi expels carbon dioxide, causing bubbles in the dough and giving bread its texture. As the organisms breathe and exhale, sugar is digested. The waste from this process causes the yeasty flavor of bread.
If the organisms receive enough food and air, and are at a comfortable temperature, they reproduce very quickly. In bread, this causes the dough to rise, as single cells are replaced by huge clusters. When bread dough is punched and worked after the first rise, it distributes the organisms evenly, so they continue to ferment.
When beer ferments, the digested sugar becomes alcohol. Brewer's yeast may be one of several species, with cerivisiae the most common, that settle on the top or bottom during brewing, greatly affecting the flavor. "Top-Fermenting" brews tend to be fruity and ferment best at high temperatures while "bottom-fermenting" organisms make dark beer or lager and ferment in a cooler climate.
Until World War II, yeast was used in fresh cakes, giving the cakes a 10 day lifespan before the yeast would go bad. While, professional bakers still may use the fresh form, many cakes are made with active dry yeast, which has a much longer shelf life, and was welcomed by most home bakers. In this mixture, the organisms were carefully dried and would revive in warm water, thereby lasting longer. However, if the water was not between 105-115 degrees F (about 40-46 C), thermal shock would kill off the fungus. More recently, instant yeast has become popular. This variety does not need re-hydration and can be added directly to dough.
Today nutritional yeast, which isn't a live form of the fungi, can be used as a dietary supplement. Sold in bulk or in packages of small flakes, it is high in protein and B vitamins, and has a strong nutty or cheese flavor. Products for vegans and for people with lactose intolerance often use nutritional yeast as a substitute for Parmesan cheese, and even some movie theaters have begun offering it as a healthy alternative topping for popcorn.
AS FEATURED ON:
AS FEATURED ON:








Yeast is essential for making many types of bread.

By: Stephanie Frey

Brewer's yeast.

By: South12th

A bowl of active dry yeast.

By: Robinson

Autolyzed yeast.

By: Steve Lovegrove

Yeast is often used to make beer inside a fermenter.

By: 歌うカメラマン

The foam at the top of a beer is due to yeast.