The term "yellow maize" comes from the Spanish word maiz and is commonly referred to as yellow corn in English-speaking countries. Contrary to its improper categorization as a vegetable, it is a grain, or cereal crop, although it is commonly eaten as a vegetable. Maize comes in many colors, including yellow, white, blue, red, black, green, purple, tri-color and multi-color, depending on the variety. Yellow maize grows on stalks, commonly referred to as corn stalks, with each stalk producing several ears of corn with hundreds of kernels. The kernels are commonly eaten cooked, while the dried kernels are used for animal feed or ground into flour for baking.
Yellow maize is commercially grown in large quantities and harvested in fresh form for human consumption. Fresh corn is sold whole with the silk and husks attached, as well as cut from the cob and the kernels frozen or canned for use in recipes or as a vegetable side dish. The fresh, canned or frozen kernels are then boiled or otherwise cooked before being eaten.
Many commercial growers also allow the kernels to dry on the stalks before harvest. The whole or crushed dried kernels are then sold as livestock feed. In dried form, yellow maize also is crushed or ground to various consistencies for commercial and home use in cooking and baking.
As a source for human food, yellow maize has a high starch content and is, in fresh form, a source of fiber and vitamins A and C. In canned form, corn loses its vitamin A properties, as well as some fiber content, but increases in vitamin C. When yellow maize is dried and coarsely ground, it is sold as corn grits. Corn grits are a fat-free food that contains iron, fiber and protein. Grits are often used to make polenta, masa and porridge or added to baked goods for added texture.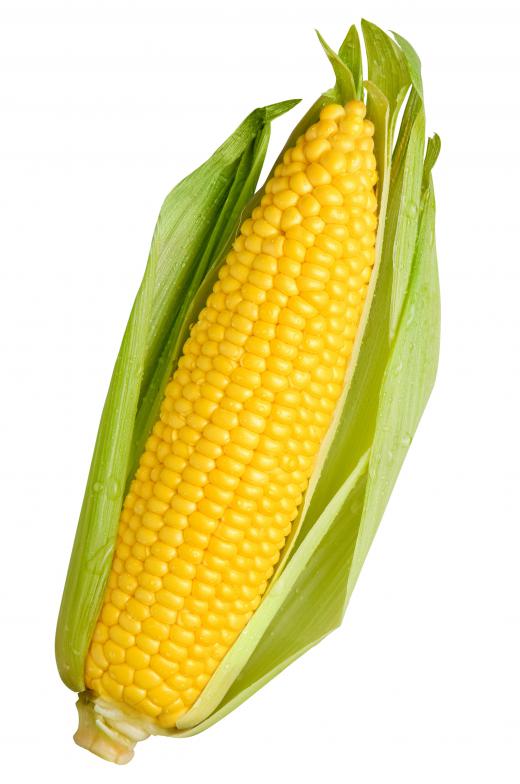 Yellow maize that is finely ground is often referred to as cornmeal or corn flour. This can be used to make pancakes, waffles, cornbread, muffins and other baked goods. Commercial cereal makers often use ground maize in dry cereal products. Yellow maize is a versatile crop with many other uses, including in the production of corn syrup, grain alcohol such as bourbon, corn oil and biofuel production. Many corn farmers set up labyrinths and mazes through their cornfields during the autumn months and provide tours and other harvest activities.
AS FEATURED ON:
AS FEATURED ON:








Polenta made from yellow maize.

By: rimglow

An ear of corn, also called maize.

By: robhainer

Yellow maize is ground into cornmeal, which is used to make cornbread.

By: Dusan Kostic

Many farmers set up mazes through their cornfields during the autumn months.

By: Okea

Yellow maize is used to make corn cereal.

By: AZP Worldwide

Each stalk can produce several ears of corn.