How Do I Choose the Best Bread and Butter Pickles?
Many people enjoy the sweet and sour flavor of bread and butter pickles, but it can be difficult to determine the best kind. While individual tastes vary, there are still some key elements to look for in seeking the best. One is that the pickles should still have some crispness to them. The level of sweetness should be considered, though that is a matter of personal preference. Elements of the brine spices also can make a difference in the end taste, which is why some people choose to make their own bread and butter pickles at home.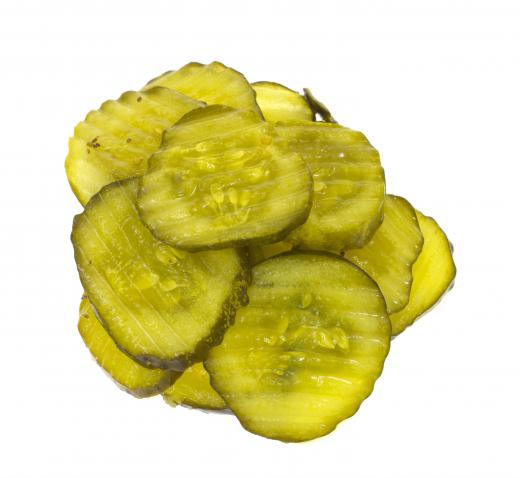 Most bread and butter pickles are sliced before they are placed into the brine solution. This allows each slice to have the full flavor of the spices but also presents the problem of losing crispness. Many people like their pickles to have some snap when they bite into them. The length of the brining time, the quality of the cucumbers used and the time spent at room temperature are all factors that can make a pickle less crunchy.
The balance of sweet and sour in the pickles also can be important when choosing the best one. The pickles should not be too sweet but also should not taste like a dill pickle. Instead, they should have a balance of flavors. This is largely a function of the brine, meaning the odor of the pickles can help a person tell whether they have a balanced taste.
The smell of the brine also can help to reveal whether the spices are in a proportion that can be enjoyed. Commercial manufacturers each use a custom blend of spices. One common aspect that can make a pickle undesirable to some is if there are too many mustard seeds in the brine. Another is the amount of sugar added to mixture. A good pickle will have a balanced taste with no one element overriding the others.
Some pickles are made for those who do not want sugar in their pickles. Sugar-free bread and butter pickles are manufactured with alternative sweeteners. These might not be for everyone, because the taste is different and those sensitive to artificial sweeteners might be able to taste it.
When choosing a commercial brand, one may want to look for jars that are refrigerated in the store. These tend to be fresher, because they have a limited shelf life. They also tend to be crisper, because they have not sat at room temperature and have undergone less processing.
If no commercial brand meets the expectations of how a bread and butter pickle should taste, then the best choice may be to make them at home. The process is not difficult and allows each ingredient to be controlled. Additional ingredients, such as red pepper flakes, also can be included.


By: Natalya Korolevskaya

Pickling cucumbers growing on the vine. The pickling mixture is what makes them bread and butter pickles.

By: Louella Folsom

Sliced bread and butter pickles are ideal for sandwiches.