Cornichons are small, tart, pickled cucumbers or gherkins. They're usually about finger size in length and about the size of a child's finger in width. They may be sold under this name in both France and in English speaking countries, though some may just refer to them as small gherkins.
These little pickles are often served as part of hors d'ouevres, on vegetable plates, or with other pickled vegetables. Since they're typically finger food, they are great for any buffet setting, and their tart flavor is excellent when contrasted with sharp or mild cheese. They also go very well with a selection of mixed olives.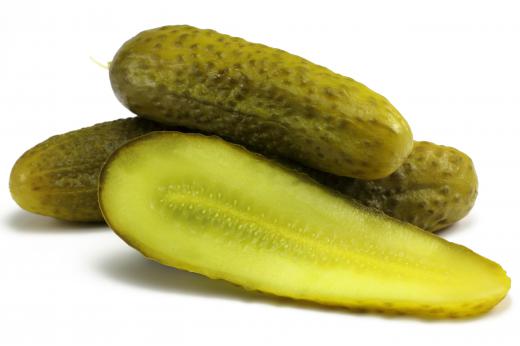 In France, the gherkins may be served in several ways. They sometimes accompany or are served as a side dish next to smoked ham, and they go equally well with most smoked or salted meats from any country, and are particularly good with the many Italian meats like prosciutto. Another popular recipe, similar to the British fish and chips is cornichons and goujons, which is essentially small pieces of white fish like sole or cod that are deep-fried and dipped in tartar sauce that contains the gherkins. The addition of vinegar to fried fish is similar to the way fish and chips are served in the UK, and in many pubs around the world that love UK pub grub.
One classic French and Swiss dish that makes use of these pickles is raclette. This is a semi-soft cow's milk cheese that is often heated in a small iron. The warm gooey cheese is then placed on plates and may be accompanied with baked potatoes, pickled onions, smoked meats, and cornichons. Many cooks find their own use for the baby pickles, and some like to dice them up and add them to dressings, or slice them and place them on sandwiches. Their applications in cooking and their tart flavor make them tremendously appealing to many people.
The pickles can be made at home, and recipes are not difficult to find. Finding the small cucumbers is often the most difficult part of making them, although parigno cornichon pickling cucumbers are a good choice. After rinsing the cucumbers and drying them lightly, the cook should place them in a sterilized jar. He can then add pearl onions, a hot pepper, some peppercorns, tarragon, and salt. The ingredients are then topped with white wine vinegar, and the jar placed in a refrigerator. In about a week, the cook will have perfect cornichons, and provided he has sterilized the pickle jars first, they'll keep in the refrigerator for a few months.
AS FEATURED ON:
AS FEATURED ON:








By: Schlierner

Cornichons.

By: ChantalS

Cornichons in a jar.

By: Kadmy

Cucumber growing on a vine.

By: Roman Ivaschenko

White wine vinegar, which can be used to make cornichons.

By: valery121283

Peppercorns are used in making cornichons.

By: Boggy

Cornichons are finger foods, so they fit in well in buffet lines.