Known as shahe fen in China, chow fun is a rice noodle dish that is stir fried, most commonly with beef and vegetables. There are many combinations of this basic dish that substitute chicken or seafood for the beef. Chow fun is also made as a vegetarian dish, with bean curd and bean sprouts along with the traditional vegetables of the meat version.
To make chow fun, the noodles should be purchased fresh, as they do not freeze or dry well. When purchased fresh, these noodles must be hand cut. This allows the cook to size the noodles to his or her personal preference. The traditional way to cut the noodle is in a wide form, similar to the width of the Italian pasta fettuccine.
Due to their high absorbency, the broad noodles used for chow fun tend to soak up the flavorings from whatever they are cooked with. Their texture rather than their taste makes chow fun noodles so unique. Prior to cooking the noodles, it is best to rinse them in warm water, which allows the noodles to cook evenly and to remain whole during the cooking process. Often when the noodles are not rinsed, they will tear instead of remaining in one long piece when being stirred.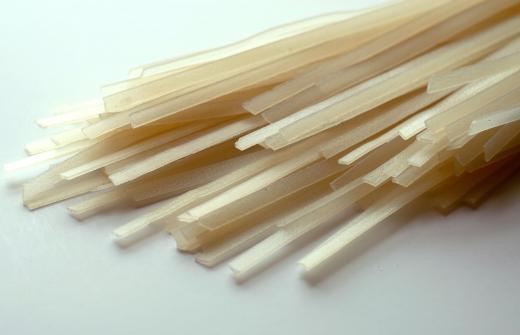 The cooking time for the noodles is very short. If the noodles are overcooked, they become gooey and sticky and do not maintain their shape. Some cooks choose to merely pass the noodles through boiling water or even to simply wash them while in a strainer with boiling water.
As chow fun is cooked in a wok, the stir-frying process is twofold. First, the ingredients, such as the meat and vegetables and any sauce, are cooked. Once finished cooking, these ingredients are removed from the wok. A small amount of oil is then added to the wok. Once the oil is quite hot, garlic is traditionally added to the oil. As soon as the garlic has lightly browned, the noodles are then stir fried until they are brown.
As the noodles are the focal point of the dish, they must be watched constantly during the cooking process so that they do not over-cook. Once cooked, all the ingredients that were cooked separately from the noodles are then added to the noodles in the wok. Noodles and the other ingredients are tossed together and then served steaming hot.
AS FEATURED ON:
AS FEATURED ON:








By: JJAVA

Beef and vegetables are usually added to noodles to make chow fun.

By: Red Rice Media

Rice noodles are used to make chow fun.

By: WimL

With its high smoking point and mild flavor, peanut oil is ideal for making chow fun.