Chow mein is a type of Chinese food that contains fried noodles. There are almost as many varieties of this dish as there are cooks, and some varieties might have different names in certain locations. Chow mein often contains stir-fried vegetables and sometimes meat along with the noodles. Soy sauce or other flavorings also can be added.
This dish has its roots in Chinese peasant cooking, with its emphasis on vegetables and stir-fry preparation. It has since been adapted by cooks in many parts of the world. There are varieties that are considered Americanized, as well as Caribbean, Indian and other varieties, although many people still consider all of the varieties to be Chinese food.
One of the distinctive features of chow mein is the noodles, which are often prepared to be crispy. Whether they are the smaller, crunchy noodles that come in a can or the fried egg noodles in restaurants, crispy noodles are what people expect to find in chow mein. Many people call the same mixture with soft noodles lo mein instead of chow mein.
Chow mein can be easily prepared at home, especially because frozen Chinese vegetables are readily available in most grocery stores. A cook can make a sauce with soy sauce, water, cornstarch and oil, but some cooks recommend marinating the meat in soy sauce as well. Cooks who wanting a more authentic flavor might also throw some fish sauce and oyster sauce into the mix. These sauces are rather like soy sauce and are available in most Asian markets or Asian food aisles in supermarkets.
The cook then stir fries the meat, if desired, and sets it aside while cooking the vegetables through. The meat and sauce are returned to the pan and all warmed through. The chow mein is then served with the crispy noodles.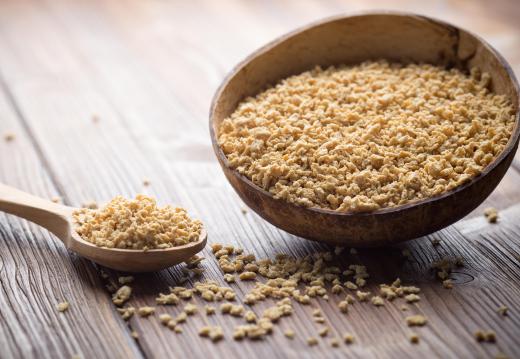 There are so many varieties that there essentially is no wrong way to make chow mein. The cook is free to substitute and tinker with the ingredients in any recipe. Many cookbooks contain recipes, and a great variety of recipes also can be found online.
AS FEATURED ON:
AS FEATURED ON:








By: WimL

Chow mein is often made using peanut oil, which has a high smoking point.

By: gitusik

Chow mein is often flavored with a sauce that's made from fermented soy.