Siopao is a steamed, meat-filled bun that is a part of traditional Filipino cuisine. It is very similar to, and is probably derived from, smaller Chinese dumplings known as baozi. In general all of these are filled with either pork or beef, and the bun is normally thick and starchy. The Filipino versions are normally intended to be eaten without utensils and can make a whole meal, much like a sandwich; in China, they're more often served as appetizers, often as dim sum. There are two traditional versions of siopao, namely asado, made with stir-fried and marinated meat strips, and bola-bola, made from sausage and ground meat. Food stalls and casual restaurants throughout Southeast Asia are perhaps the most common places to find buns of all varieties and variations, but they're also served at Filipino and Chinese restaurants around the world are are usually pretty easy to make at home, too.
Basic Concept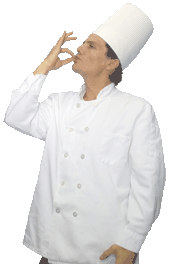 Meat-filled buns are fairly common in many Asian cuisines, in part perhaps because of their versatility and ease of preparation. They're often a good way to use leftover meat, and the portability of the end product is often really valuable for people with long commutes or who want a quick meal or snack on the go. The buns are always steamed, too, which usually also means that they're very easy too cook. They're commonly paired with a range of dipping sauces.
Core Ingredients
There are two main componets to these buns: the meat filling and the doughy exterior. The filling is usually a bit more flexible than the bun itself, though there's room to experiment and substitute on both sides. Normally, the bun is made from rice or wheat flour, water, and sometimes an additional starch; egg is sometimes included too depending on the recipe. The dough is normally sticky, often to the point of being almost gummy, and is typically very dense.
Cooks pat the dough into a flat round, then scoop a meat mixture — normally pre-cooked, pre-seasoned pork or beef — into the center. The edges are then brought up to the top and sealed. Some cooks are quite artistic with their folding and create intricate scalloped edges, whereas others simply aim to close things up. The finished buns are then arranged into a steaming basket and held over hot water just long enough for the dough to set. Even when perfectly cooked, most buns have a sticky exterior.
Asado Variety
Asado buns are made with pork or beef cooked in soy sauce and seasonings. This variety tends to be the most popular kind, and can be found in the Philippines at both street vendors and restaurants. The meat is always pre-cooked, since the buns aren't normally steamed for long enough to adequately cook anything raw. Some cooks make meat specifically for the buns, and this often the way street vendors and restaurants operate. At home, though, many cooks use the buns as something of a creative use for leftovers. Beef and pork that has previously been part of another meal can find new life as bun filling. The dough for asado-style buns is almost always made from rice flour.
Bola-Bola Buns
Bola-bola buns are distinguishable based on the meat they use: rather then employing strips or shreds of marinated meat, they're made with pork and Chinese sausage. The roll itself can also be a bit different, and is often made with wheat flour and sometimes also egg. Egg can give the roll a more golden appearance once steamed.
Chinese Variations
The Chinese version of siopao is called baozi. Baozi is thought to date back to the Three Kingdoms period in China, which lasted from 220 to 265 A.D. According to legend, a military commander known as Zhuge Liang invented this food in the shape of a human head as a religious offering when his troops came down with the plague. This food was originally called mantou, which means flour-head. It is still called this in some parts of Southern China, but it is mostly called baozi now.
According to local lore, the basic baozi idea was brought to the Philippines by an immigrant named Ma Mon Luk. He was poor but had the knowledge of the foods he grew up with, including baozi. Soon he began selling food in the streets. He eventually got a small restaurant and became very popular.
The foods served by Ma Mon Luk eventually became part of Filipino culture. The name siopao translates as "steamed bun," and eventually replaced baozi in common parlance. They are still popularly sold in the streets in the Philippines, and can be found in Chinese and Filipino restaurants in other countries. These buns are commonly part of dim sum cuisine, which are small portions of finger foods served with tea.
Popular Modifications
In northern China, steamed buns are still known as mantou, the original name. They are normally made with wheat flour instead of rice flour. Mantou are not always filled, and may be deep fried and dipped in sweetened condensed milk. Japanese cuisine also features a steamed bun known as nikuman. These are often also made with a pork filling, but differ when it comes to sauces, marinades, and traditional seasonings.
AS FEATURED ON:
AS FEATURED ON:








Chef