How Much Should I Tip at a Restaurant?
How much to tip at a restaurant depends on the class of the restaurant, your server, the size of your party, and the quality of the service. Different cultures have different expectations, so exact percentages vary depending on where you are in the world. Generally, however, tips range from 10% to 20% of the meal's cost, before tax.
Common Tipping Practices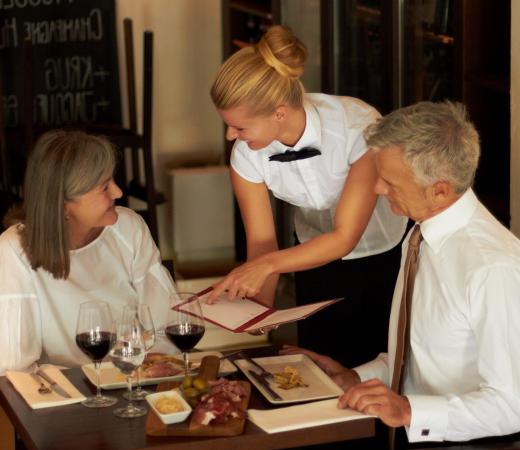 In the United States, the class of the restaurant — and even where you sit — has an effect on the tip. Besides the usual fine dining, patrons can enjoy buffets and cafés, as well as eat at a counter or bar. Generally, whenever a waiter serves your food, some amount of tip is necessary.
When eating at a restaurant or café, a tip of 15% is common. At a bar or at the counter, service isn't considered a big part of the meal so 10% to 12% is usually adequate. Large parties of seven people or more should expect to pay at least 20%, and this gratuity may be automatically included in your bill.
Tipping for a buffet can be more complex. At a fast-food buffet, tipping is unnecessary. If a waiter serves drinks, however, it is fine to tip a small amount. At high-end buffets, a tip of 15% to 20% is common, and this may be automatically included on your bill.
Tipping Other Staff
Besides the waiters, several other staff members will likely expect tips at a four-star restaurant. A few US Dollars (USD) are usually given to valets and coat checkers. In addition, the maître d' should typically receive a significant tip, usually as a lump sum not a percentage. These tips should be given before being seated.
If you stop in at a restaurant's bar while waiting to be seated, the bartender should receive 10% to 15% of the bar bill; it is usually best to close your bar tab before being seated, but if you don't, tip $1 to $2 USD per drink. Once you have dined, expect to leave the waiter at least 20%. If you had wine with your meal, the wine steward should usually be tipped 15%, although tips as low as 10% are acceptable for particularly expensive bottles of wine. A small amount of up to $1 USD is also typically given to bathroom attendants.
Take Out and Delivery
When picking up food at a restaurant, tipping is uncommon and not always expected. The person taking and preparing your order is providing you with service, however, so consider giving a small tip of up to 10%. If your order was complicated or the person who took the order was especially helpful — for example, if you didn't have a menu available — a tip on the higher end of the scale would be appropriate.
Many restaurants that offer delivery include a charge for the service, but this does not take the place of a tip. Delivery people should be tipped 15% in most cases. If the driver delivered the food especially quickly or during rain or snow, you should usually tip more.
Service
Bear in mind that food and service are separate issues. A tip is generally given based on the quality of service, not the food, ambiance, or any entertainment. If the food was bad but the service was good, for example, complain to the manager about the food, but tip the server for his or her efforts. On the other hand, if the food was good but the meal was ruined by poor service, a lower tip is appropriate.
No matter the restaurant, adding few percent to the tip is a good idea when the server has worked particularly hard or gone out of his or her way to make your meal pleasant. This shows that you acknowledge and appreciate the quality service you have received. In addition, leaving good tips can help ensure that you continue to receive good service in the future.
Outside the United States
Tipping is not required or expected in all countries, and in some cases, leaving a tip is considered unusual or even insulting. It is common in some places for the bill to have a "built-in" tip or gratuity, usually of 10% to 15%. In some cultures, you are free to add to the gratuity for particularly good service or simply round up the bill, while in others no additional amount is expected. As you prepare to travel abroad, it is usually worth researching the specific expectations for tipping at your destination.
AS FEATURED ON:
AS FEATURED ON:








By: Yuri Arcurs

A waitress who offers superior service should be tipped extra.

By: Tyler Olson

Tipping shows that you appreciate good service.

By: pst

It is typical to tip other staff members, such as a valet, a few US Dollars.

By: Stephen Coburn

15% is a typical tip for a delivery person.

By: .shock

A restaurant bartender should receive 10% to 15% of the bar bill.

At a fast-food buffet, tipping is unnecessary.

By: Paul Hill

Quality of service is a determining factor in the amount that a person should tip in a restaurant.

By: Warren Goldswain

Tips usually range from 10 to 20 percent of the cost of a meal, before taxes.

By: oksix

Nicer restaurants usually require a larger tip.

By: Kablonk Micro

Servers who wait tables at a restaurant are dependent on tips for the great majority of their take-home pay.