What are Different Kinds of Hot Peppers?
Hot peppers are an integral part of the culinary tradition of many nations, appearing in spicy sauces, salsas, marinades, and everything else cooks can imagine. Spicy peppers have their origins in South America and the Caribbean, although they were introduced to Europe along with a variety of other New World foods during the age of exploration. Today, hot peppers are cultivated and sold all over the world in both fresh and dried forms. Hot peppers are also known as chiles, a nod to the native Nahuatl word for them.
The intensity of spicy peppers is due to a substance called capsaicin, which has a crystalline structure that irritates mucus membranes such as those found in the mouth. The substance is so powerful that it is measured in parts per million, on a scale known as the Scoville Heat Scale. According to the scale, one part per million (ppm) of capsaicin is equal to 15 Scoville Heat Units. This system gives a quick indicator as to how hot the pepper will be. For reference, a bell pepper has a score of zero Scoville Heat Units, while pure capsaicin measures 16 million Scoville Heat Units.
Three hot peppers are particularly famous for their intensity, starting with Habaneros, which have a Scoville Heat Unit measurement ranging from 100,000 to 300,000. Scotch Bonnets and Jamaican Hot peppers have Scoville scores a little lower, from 100,000 to 250,000. These peppers can cause blistering in the mouth if not handled with care, and at very least will spice up a dish quite formidably.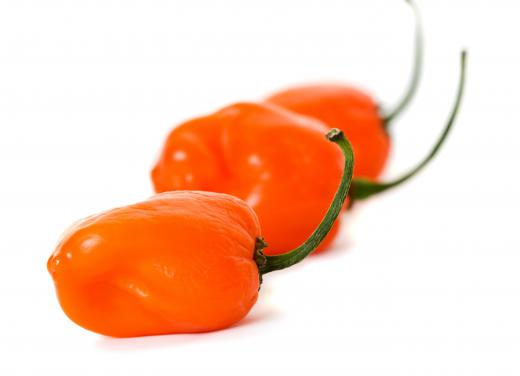 Further down the Scoville scale lie Thai, Cayenne, Serrano, and Wax peppers, with scores ranging from 5,000 to 100,000 at the high end. Thai peppers have been readily adopted in Southeast Asia, where the peppers are cultivated in large amounts and dried for future use. Milder peppers that are still in the hot family include Jalapeños, Rocotillos, Poblanos, and New Mexico peppers. Most consumers are familiar with the more mild peppers, which often appear in Mexican food. Other peppers such as Pepperoncinis have very low Scoville scores, and really cannot be considered "hot" peppers at all, although they do have a bit of a bite.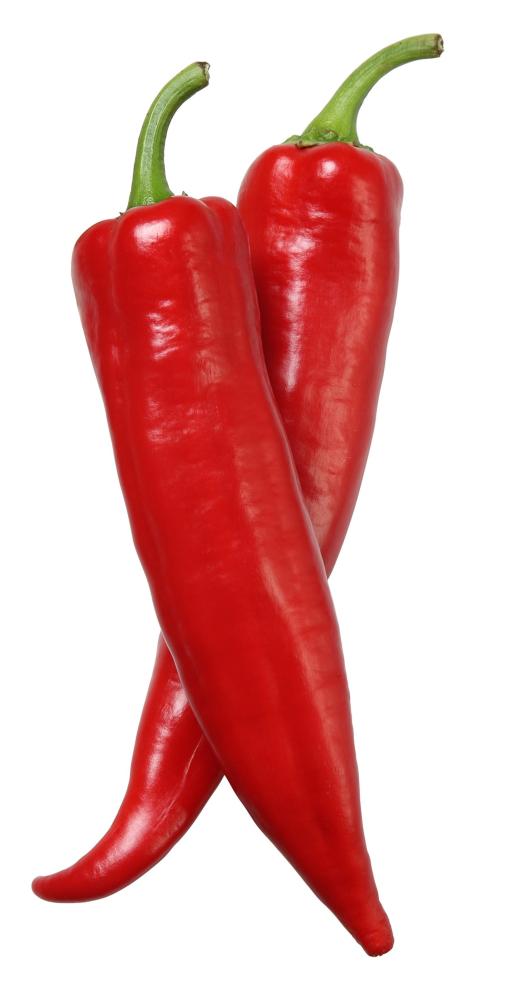 When handling spicy peppers, it is important to take safety precautions; chili peppers can hurt the skin on the hands as well as the inside of the mouth. Gloves should be worn at all times, and hands should be washed thoroughly before preparing other foods or touching parts of your body such as the face. If you would like to reduce the heat of the pepper, you can remove the seeds and white ribs in the middle of the pepper, where the capsaicin is concentrated.
AS FEATURED ON:
AS FEATURED ON:








By: Lev

Hot peppers are used to create spicy sauces and salsas.

By: Brenda Carson

Habanero peppers are known for being very hot.

Chili peppers.

By: epantha

A jalapeno pepper.

By: atoss

Tabasco peppers.

By: Antonio Gravante

Long peppers are common in India and a bit hotter than black pepper.

By: JJAVA

Guajillo chiles are sometimes used to add heat and depth to tomato salsas.