What Are the Different Types of Seafood Appetizers?
Seafood appetizers are a staple at many parties and holiday get-togethers. The choices of seafood to use as ingredients in appetizers are nearly endless, from clams and crabs to oysters. Seafood appetizers may be prepared with a variety of cooking methods, including baked, breaded or steamed. Some seafood appetizers can be pickled, and others are served raw.
Oysters offer a wealth of seafood appetizer possibilities. Oysters on the half shell, oysters wrapped in bacon and pickled oysters are some of the appetizer options. Oyster bruschetta features fresh oysters and is served on slices of French bread. Oysters casino is a baked dish featuring oysters, onions and red bell peppers.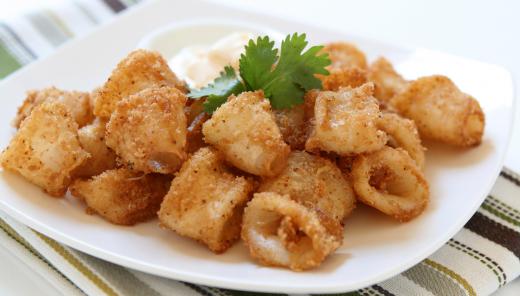 Shrimp can be grilled, baked or steamed and served alone or in a cocktail sauce as seafood appetizers. Shrimp can also be paired with crab for a shrimp and crab cocktail. Shrimp also can be stuffed with clams and baked, and shrimp can be added to a salad and spooned into oyster shells. Shrimp spring rolls are similar to shrimp egg rolls, but they are not fried.
Smoked salmon is a versatile ingredient used when preparing seafood appetizers. Smoked salmon can be used to make smoked salmon tartare and served on crostini; pairing smoked salmon with goat cheese creates a strata. Smoked salmon in cucumber cups features hollowed-out cucumbers filled with a smoked salmon, sour cream and cilantro mixture.
Seafood appetizers will often incorporate crab meat. Hot crab appetizers combine cooked crab meat with mayonnaise and artichoke hearts and are served on baguette bread. Another crab appetizer served on baguettes is crab dip, which features crab meat mixed with cream cheese, sour cream and Parmesan cheese. A low-fat seafood appetizer is crab cakes with orange-dill sauce. The crab cakes are topped with the sauce and served cold. Other seafood appetizers featuring crab include snow peas stuffed with crab, truffle custards with crab and caviar, and baked deviled crab.
Herring and tuna are also main ingredients in many seafood appetizers. Ahi Tuna Poke is a Hawaiian dish featuring bite-sized pieces of tuna prepared with soy sauce and green onions. The prepared tuna pieces are individually wrapped in lettuce leaves, and the appetizers are eaten using chop sticks, fingers or a fork. Tuna mousse features canned oil-packed tuna blended with soy sauce, lemon juice and balsamic vinegar and served with crackers. Herring salad, which features wine-flavored herring pieces combined with chopped apples and chopped dill pickles, is served on rye bread.
AS FEATURED ON:
AS FEATURED ON:








Fried calamari.

By: joesayhello

Some Hawaiian and Asian seafood appetizers feature seared ahi tuna.

By: gloszilla

Fresh spring rolls are often filled with shrimp and vegetables and then dipped in a sauce made with sweet chilies and fish sauce.

By: Maksim Shebeko

Different types of seafood on the same plate can make for a delicious appetizer.

By: Gordon Logue

Crab meat is a popular choice for a variety of hot and cold appetizers.

By: vpardi

Steamed lobster and prawns served on a platter with lemon is a simple yet impressive seafood appetizer.

By: Matthew Antonino

Broiled, bacon-wrapped scallops.

By: Betty Abrantes

Caviar appetizer with crème fraîche and basil.

By: teleginatania

Crab cakes are a popular low-fat seafood appetizer.

Salmon canapés with crème fraîche, caviar and dill.

By: Fanfo

Oyster casino ingredients include oysters, onions and red bell peppers.

By: darkbird

Caviar is an ingredient in some seafood appetizers.

By: Michael Gray

Shrimp can be served in a spring roll appetizer.

By: sparkia

Bacon is often included in seafood appetizers to enhance the flavor.

By: M.studio

Oysters on the half shell are a popular seafood appetizer.

By: blueee

Crab cakes.

By: klsbear

Shrimp cocktails are popular seafood appetizers.