Potstickers are steamed and fried dumplings named for their remarkably sticky wrappers, which can adhere to the cooking pan if the dumplings are not handled properly. The term potsticker is used mostly in North America, with the Chinese preferring jiaozi. These dumplings are also known as gyoza or mandy, among many other things, and they are a common element in the cuisine of many Asian nations. They are also familiar to many people outside of Asia, thanks to their ubiquitous inclusion on Chinese restaurant menus and in fast food establishments with Asian-inspired offerings.
The construction of a potsticker is very basic. It starts with the dough, which is typically flour-based. The dough is rolled out and cut into a square or a round before being stuffed with a filling made from chopped and seasoned vegetables or meats. Usually the filling is lightly cooked to ensure that it will be fully cooked when the dumpling is cooked, and it can feature a range of ingredients including shallots, pork, garlic, ginger, black beans, tofu, mushrooms, carrots, and cabbage, among many other things. The wrapper is tightly crimped shut to make a neat package. For people making potstickers at home, it helps to run a wet finger along the edges of the wrapper before sealing to ensure that it stays closed.
Cooking this food is a two-step process. First, the dumplings are fried seam side up in a large pan to create a brown crust on the bottom of each dumpling. Then, a shallow water or broth is added to the pan and the pan is covered, allowing the dumplings to steam for 10 to 15 minutes. After the steaming process, the potstickers are done and ready to be served.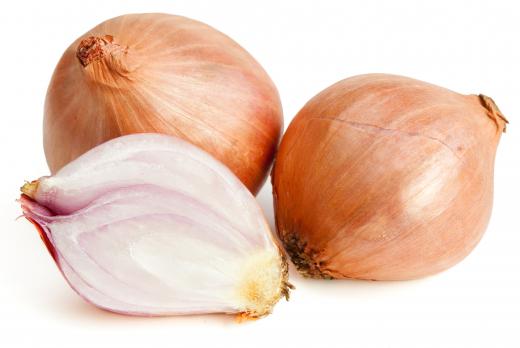 When cooked properly and removed with a thin spatula, the dumpling usually don't stick, as the spatula neatly pulls away each one along with its crispy crust. It is important to give potstickers plenty of room in the pan to ensure that they do not stick to each other, and to use a pan large enough that theey will not stick to the sides or lid of the pan during the cooking process.
Potstickers can be eaten hot or cold, and they are classically served with a sauce. Soy sauce is a common choice, but chili sauces, mustard, fermented black bean sauce, sesame oil, and numerous other garnishes may be offered as well. This food is typically eaten as an appetizer, and may be served with other appetizers like egg rolls and steamed buns. Many dim sum establishments also serve potstickers.
Home cooks who want to make potstickers can often find pre-made wrappers in the Asian foods section of their grocery stores, or in Asian markets. The filling can be left largely to the imagination, and it is typically lightly seasoned with salt and pepper only, although other spices may certainly be added. It is important to chop the ingredients in the filling very finely so that the filling does not bulge, and to use only a small amount in each potsticker to avoid breaking the dumpling open when it is sealed and cooked.
AS FEATURED ON:
AS FEATURED ON:








By: narumol pug

Potstickers can be served steamed with a dipping sauce on the side.

Potstickers often include shallots.

By: Chris leachman

Shiitake mushrooms are commonly added to potsticker fillings.

By: monticellllo

Cabbage may be an ingredient in potstickers.