Gyoza is an Asian dumpling, originating in China before becoming a staple in Japanese cuisine. In the United States, it is commonly sold as a "potsticker," or "potstickers." Gyoza is made from a very thin dumpling skin, and is filled with meat and vegetables. A soy based dipping sauce typically accompanies it.
The process for making gyoza can be lengthy, and it is common for Japanese families to prepare them together. The filling is typically made from sliced cabbage, chopped green onions, and minced ginger and garlic. The cabbage is blanched in hot water and sliced into thin pieces. Once the cabbage has cooled, the remaining vegetables are added. Typically, ground pork is added to the filling, but newer versions include ground shrimp or chicken. Sesame oil and soy sauce add flavor to the filling.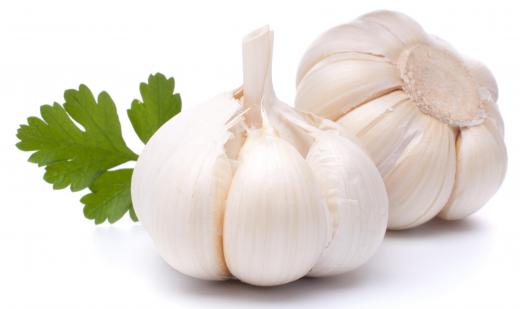 Circular shaped gyoza skins, similar to wonton skins, are used to house the filling. The skins are made from flour and water, and can be purchased fresh or frozen. They are moistened with water and the filing is placed in the center of the circle. The skin is folded over to resemble a half moon or half circle. To seal the dumpling, tiny crimps or pinches from the fingers create folds and flaps. At this point, the gyoza is ready to be cooked or frozen for a later date.
Gyoza can be cooked by boiling, steaming, pan frying, or deep frying. The most preferred method is a combination of pan frying and steaming. A small amount of oil is used to toast the dumpling, which turns the skins a golden brown color. Unfortunately, the skin tends to stick to the side of pots and pans, earning it the name potsticker. Water is then added to the pan, a lid is used to cover the gyoza, and steam finishes the cooking process. To prepare a large amount of potstickers, cooks can use stackable Asian basket steamers, which fit nicely in a wok or other shallow pot.
Once the gyoza have finished cooking, it is best to serve them immediately. They are typically served with a dipping sauce, usually a mixture of soy sauce and vinegar. To spice up the dipping sauce, cooks can add chili oil or fresh ginger and garlic pieces.
For those who don't want to go through the process of making gyoza, they are available in supermarkets and Asian grocery stores. Sold in bags by various manufacturers, they are generally found in the frozen section. Some even come with packets of dipping sauce. They can be eaten as an appetizer or a main course.
AS FEATURED ON:
AS FEATURED ON:








By: Natika

Garlic, which is used in making gyoza.

By: Arnold Gatilao

Gyoza is an Asian dumpling served with a sauce.

By: adisa

Circular shaped gyoza skins are generally found in the frozen section of Asian grocery stores.

By: GIS

Minced ginger is commonly used in gyoza filling.

By: gitusik

Gyoza are typically served with a sauce that's made from fermented soy.