What are Some Different Kinds of Chutney?
Chutney is a pickle dish that originated in India, but is eaten in different variations in many countries in the world. The pickle side dishes known as chutneys can be made from a wide array of fruits — either from one fruit alone or in combinations of two or more fruits. Mango, mint, coconut, date, apple and plum are just some of the different types of chutney available today.
Mango chutney is one of the most popular chutneys. It is often both sweet and spicy in flavor. Cinnamon, ginger and honey are common ingredients in mango chutney and many people consider it absolutely delicious with poultry.
Mint chutney is often served as a cooling accompaniment to spicy foods such as curries. It is also known for serving alongside sea foods or lamb. Mint chutney is often flavored with lime juice. Dill and fennel may also be added.
Coconut chutney is very popular in South Indian cooking. It may accompany a steamed rice cake called idli. Curry leaves and sesame oil are some flavorings commonly used in coconut chutney. Coconut is often used in combination with other chutneys such as mango.
Date chutney is usually flavored with cinnamon and honey and is very versatile. It may be served with cheese and crackers or with an elegant salmon dinner. Some people also like date chutney with poultry dishes.
Apples can be combined with date chutney to form an apple-date chutney. Both apple and apple-date chutneys are commonly served with pork. Apple chutney is usually flavored with cinnamon, but could also have curry powder added.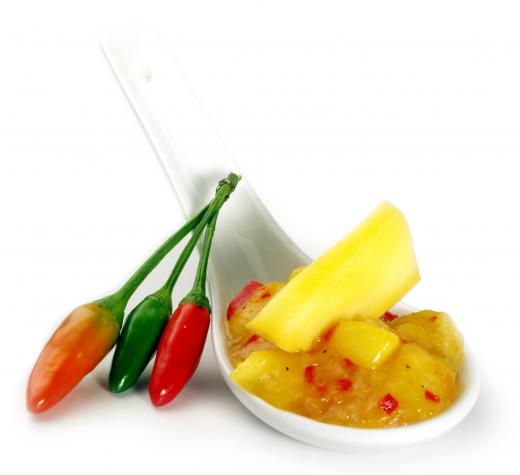 Plum chutney is often served with duck or ham. It is also quite popular served with cheeses, especially sharper varieties such as cheddar. Some cooks use plum chutney as a marinade for meats or poultry. It can also be substituted for cranberry sauce at holiday dinners. Plum chutney is sweet and sour and usually has a fair amount of sugar added along with the vinegar.
AS FEATURED ON:
AS FEATURED ON:








By: manyakotic

Plum chutney pairs nicely with ham and can be used as a marinade.

Mango chutney.

By: uckyo

Coconut chutney is popular in Indian cuisine.

By: Glen MacLarty

Duck legs with plum chutney.

By: xiangdong Li

Apples can be used to make chutney.

By: Igor Kovalchuk

Some chutney features coconut.

By: SunnyS

Date chutney can be served with salmon as part of a dinner entry.

By: PhotoEd

Sweet mango chutney helps cool the spiciness of many Indian curries.

By: paul_brighton

Peanut chutney with rice cakes.