What Are Some Different Types of Frying Pans?
Frying pans are one type of handy cookware that is found in just about every kitchen. Used for frying meats, scrambling eggs, and other culinary tasks, the frying pan is a versatile tool that even gets to go along on camping trips. While the uses for frying pans are varied, there are essentially three different types of frying pans to choose from.
One of the most beloved incarnations of the frying pan is the cast iron fryer. Available in several different sizes, the heavy-duty pan is usually seasoned with oils or lard in order to provide the best cooking conditions. In addition to being ideal for frying chicken, it is not unusual for cooks in the Deep South region of the United States to use a cast iron frying pan to bake pones of corn bread. The cast iron body, when properly seasoned, provides the crust of the corn bread with an extra crisp texture considered highly desirable.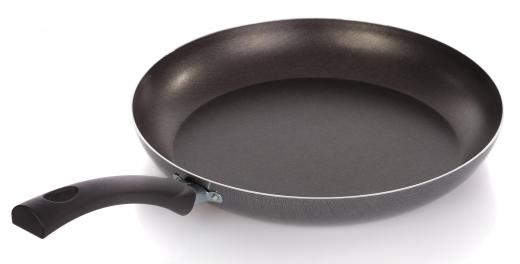 Along with the cast iron designs, frying pans also are often manufactured of some type of metal combination. Aluminum and stainless steel are favorite choices for this type of fryer tool. The metal pans are often coated with a copper bottom that adds both style and enhances the heat distribution qualities of the pan. However, a stainless steel or aluminum frying pan is not considered as versatile as the cast iron models, since they cannot be placed in the oven and are also not usually recommended with gas stovetops, since the flames tend to discolor and eventually damage the copper bottoms.
A third alternative is the electric frying pan. This is a stand-alone appliance that does not require a stovetop as a source of heat. Plugging directly into a wall outlet, the electric pan can set on the kitchen countertop while in use. Most models come with a lid and a control that makes it possible to adjust the heating element to any setting desired. While not designed for the dishwasher, these electric models and normally be lightly washed and rinsed in the sink, as long as the heating element and controls are not submerged.
Both the metal and electric types of frying pans are available with non-stick coatings within the cooking basin. Cast iron skillets that are properly seasoned do not require a non-stick coating. Of the three types of frying cookware, the cast iron model is also the easiest to clean, since often wiping the pan with a clean cloth is all that is required.
All three types of frying pans can be purchased at a number of retail outlets. Hardware stores are likely to carry a wide range of cast iron models, as well as stainless steel designs. Discount retail stores offer stainless steel and the less expensive aluminum cookware as well as several models of the electric skillet. Restaurant supply stores are likely to have commercial versions of all three types of pans, while kitchen boutiques will provide access to stainless steel fryers containing additional layers in the body of the pan.
AS FEATURED ON:
AS FEATURED ON:








By: Lusoimages

A close up of a frying pan handle.

By: Spectral-Design

Aluminum and stainless steel are popular choices for frying pans.

By: mitev

Some frying pans are dishwasher safe, while others have a special coating which may need to be washed by hand.

By: Magdalena Kucova

Fried eggs and bacon are typically cooked in a frying pan.

By: Joe Gough

Cast iron pans provide a seasoned surface on which to cook food.