What are Some Different Types of Sparkling Wine?
Whether you call it champagne, bubbly, or shimmer wine, sparkling wine is a delicious, invigorating treat. The carbonated beverage is made all over the world, and can be far more complex than the simple sparkler used for wedding toasts. For your next special occasion, treat yourself to a new kind of bubbly, reaching around the world for a local variety that may knock your socks off.
Champagne, the king of sparkling wine, is a proper name given to sparkling wines from the Champagne region of France. Some countries regulate the use of the name, yet some continue to allow sparkling wine produced in other places to masquerade under the distinguished title. Check the bottle carefully; if it doesn't say that it's made in Champagne, France, it may still be good, but it isn't Champagne. Made since medieval times, the French drink is composed almost always from chardonnay, pinot noir and pinot meunier grapes, and typically has a dry, complex flavor.
Prosecco is the name of an Italian grape and the sparkling wine it creates. Meant to be served quite cold, prosecco is noted for its naturally dry characteristics and slightly bitter aftertaste. While wonderful on its own, prosecco is also the main ingredient to a fantastic summery cocktail, the Bellini. Invented in the 1940s and boasting a cheery pink color, the Bellini is a fruity and fizzy mix of two parts prosecco and one part peach puree.
Italy is well known for another sparkling wine that is frequently served with dessert. Asti spumante is made from the super sweet moscato bianco grape, also used in Moscat wine. Due to the sugar content in the grape, Asti spumanti has a delicate sweetness and is a fantastic complement to cheese and fruit, or heavy cakes. Though sweet wines tend to be high in alcohol content, Asti is relatively low, about 12% by volume.
For a night of paella and gazpacho, complement your Spanish fare with the delicious local sparkling wine called cava. Cava was invented during the dreadful plague that destroyed much of the European grape vines in the 19th century, using hardy strains of white grape. Available in dry, medium and sweet versions, the drink is traditional in Spanish celebrations like baptisms. Cava pairs wonderfully with traditional Spanish food and can add a new level of authenticity to Spanish themed dinners.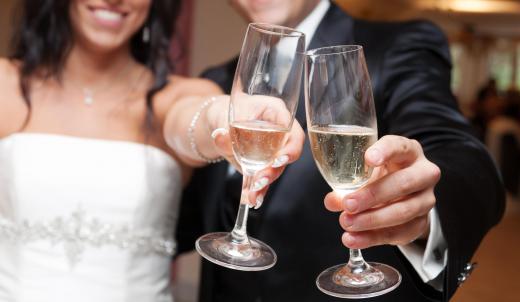 Sparkling wine is undoubtedly a party drink. Whether toasting the bride and groom or setting a cruise ship off in style, it adds a layer of fun and tradition to any major celebration. The choices in sparkling beverages are much wider than simple champagne, and well worth exploring as a means of enjoying or better understanding regional cuisine
AS FEATURED ON:
AS FEATURED ON:








By: Comugnero Silvana

A glass of Prosecco.

By: Igor Normann

Champagne tends to have smaller bubbles than sparkling wine.

By: Kondor83

Cava is a good accompaniment to Spanish foods like gazpacho.

By: elitravo

Sparkling wine can be used to toast a bride and groom.

By: benkenogy

Champagne is a specific type of sparkling wine, produced in a particular way, in a certain region of French known as Champagne.