What Are the Best Tips for Making a Passion Fruit Cocktail?
Selecting the best juice and other ingredients is the most important step in mixing a passion fruit cocktail, whether the beverage is nonalcoholic or alcoholic. If making an alcoholic drink, the spirits used should also be of superior quality and in their correct ratio in relation to the other ingredients. Ensuring that the beverage is cold, which usually entails serving it over ice, is another important tip to keep in mind.
To make a virgin, or nonalcoholic, passion fruit cocktail, mix passion fruit juice with any other juice desired. A sparkling element, such as cider, grape juice, or lemon-lime soda, may also be added. The drink can be served with fresh fruit or sorbet. Garnishes, like sprigs of mint, may be used in both virgin and alcoholic passion fruit cocktails.
If unavailable, passion fruit juice is not necessary to make the cocktail. Passion fruit sorbet may be substituted instead. If using fresh passion fruit, the fruit should be ripe and fully squeezed to extract as much juice as possible. The rest of the fruit is not used in the cocktail.
Various types of alcohol can be used in a passion fruit cocktail. Though rum is sometimes implemented, different types of vodka are the most popular. Lemon vodka, combined with triple sec and cranberry juice, makes a tasty passion fruit cocktail. Simple syrup and lime juice may be used instead of triple sec for a sweeter drink. Some people may also add sugar, while others include bitters and nutmeg for a spicier flavor.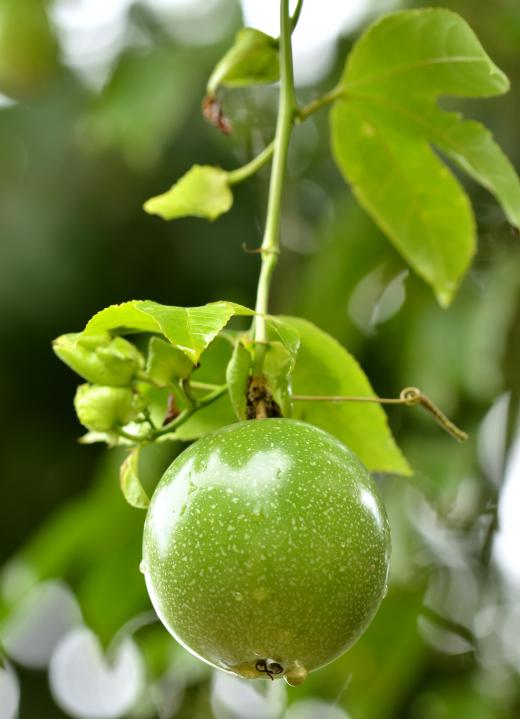 Many different specific drinks based on the passion fruit cocktail can be made by altering ingredients. A Parcha, or passion fruit ice, may be created by blending passion fruit puree with water and sugar. This frothy beverage can be served as is for a delicious dessert for children, or with alcohol for adults. A classic passion fruit martini, which is also known as the Rushton Passion, can be made by adding a small amount of vanilla bean infused simple syrup to a typical passion fruit cocktail recipe.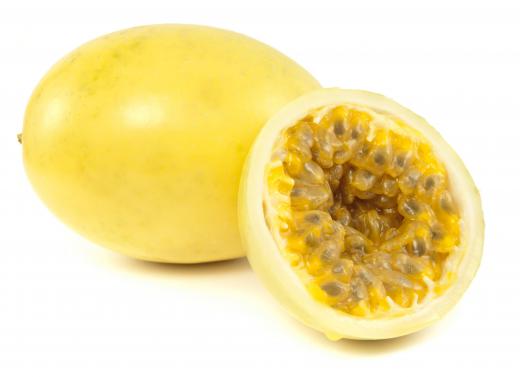 When ingredients are combined for this cocktail, a good tip is to stir or shake them for exactly the correct amount of time in the recipe. That will ensure that the drink is cold enough without becoming watered down. Garnishes are usually optional, though they do add aesthetic appeal, and sometimes another depth of flavor, to the drink. If using ice in a passion fruit cocktail, crushed ice is usually the best to serve.
AS FEATURED ON:
AS FEATURED ON:








Whole and cut passion fruit.

Passion fruit growing on the tree.

Golden passion fruit.

By: dla4

Vodka is the most popular alcohol used to make passionfruit cocktails.

By: margo555

Mint can be an ingredient in a passion fruit cocktail.

By: Antonio

If making an alcoholic passion fruit cocktail, it's best to use the highest quality spirits available.

By: Minerva Studio

A passionfruit cocktail should be either shake or stirred together.