What Are the Different Types of Bean Stew?
Bean stews are popular menu items around the globe and can be made with an array of ingredients and seasonings. Local ingredients are used to flavor some bean stews, such as some Portuguese, Moroccan and Lebanese bean stews, making them regional favorites. While many stews are chock full of a combination of meat, beans and vegetables, stews can be made in vegetarian forms. They can also be flavored with a single type of meat or with multiple meats for a more complex flavor combination.
Recipes for bean stews vary in different parts of the world, and often incorporate a variety of local ingredients, which make the dish unique to the area. Bean stew in Morocco may feature a local spicy turkey sausage, while Brazilian bean stew can have a combination of chorizo sausage and chopped ham. The sausage is often seasoned with locally-grown hot peppers for added spice.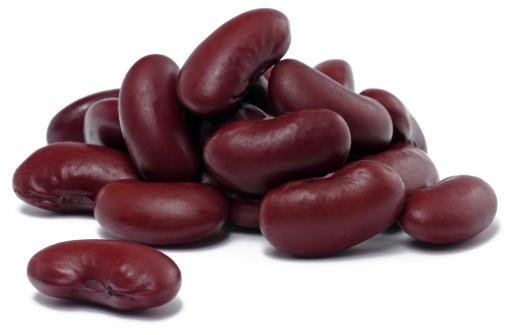 Some bean stews are made vegetarian-style and do not have any added meat or meat broth. An array of vegetables, such as carrots, potatoes and cabbage, can be used to add heartiness to vegetarian bean stews. Local and in-season vegetables can be used to create an array of flavorful all-vegetable stews, including white bean and garlic stew, hearty lentil black bean stew and winter vegetarian bean stew.
On the other end of the spectrum, meat can be the star ingredient in many bean-filled stews. Lamb, smoked pork hock and sausage can be featured in bean stews. For added heartiness and flavor, many stews feature a combination of meats mixed in with the beans. Ground beef and bacon can be paired in a stew made with kidney beans, and a recipe for stewed pinto beans features both bacon and smoked ham hocks.
For hunters, the day's bounty of game meat is often destined to be used in a bean stew. Venison, wild boar and other game can be used to successfully flavor bean stew, which can be cooked over a campfire. Rabbit, duck and turkey meat are other hearty options for cooks who prefer to gather stew ingredients from the wild.
In addition to the woods, the world's steams and oceans can hold ingredients suitable for bean stew. Ocean creatures, such as shrimp and salmon, are well-suited for bean stew recipes. For more exotic flavors, lobster, crab and mussels can be featured in bean stews. For fish lovers, a variety of fish, including mung, trout and whitefish, offer flavors to enhance bean stew recipes.
AS FEATURED ON:
AS FEATURED ON:








By: Schlierner

Kidney beans, which are often included in bean stews.

By: Viktorija

Bean stews often feature many different types of local beans and meat.

By: Magdalena Kucova

A winter bean stew can be made with potatoes, carrots, and other hearty vegetables.

By: Jaimie Duplass

Black beans can be used to make a variety of stews.

By: seqoya

Fish like salmon make a good inclusion in bean stew recipes.

By: Николай Григорьев

Beans are sources of complete dietary protein when eaten with corn.