How Long will Meat Stay Fresh in the Refrigerator?
Refrigerating meat slows the growth of bacteria, but does not stop it as freezing does. For this reason, refrigerated meat is safe to eat for a significantly shorter amount of time than frozen meat. The temperature range from 40 to 140°F (4.4 to 60°C) is referred to as the "Danger Zone" by food safety experts. It is in this "zone" that bacteria thrive, nearly doubling in a mere 20 minutes. A home refrigerator should be set at 40°F or colder to keep meat safe for the maximum amount of time.
It is important to note that there are two different groups of bacteria that affect refrigerated meat. The first, pathogenic bacteria, make us sick, while the second, spoilage bacteria, make our food go bad and stink up our fridges. By sight, smell and taste, you cannot identify whether a meat is harboring pathogenic bacteria, unlike meat contaminated with spoilage bacteria.
In a refrigerated state, spoilage bacteria can thrive. This is proven by the fact that all food in a refrigerator eventually spoils. Spoiled food won't make you sick — it might taste bad, but unless it has pathogenic bacteria, your digestive system is in the clear. Unrefrigerated meat, if left out on the counter for a few hours, might smell and look fine, but may be teeming with pathogenic bacteria.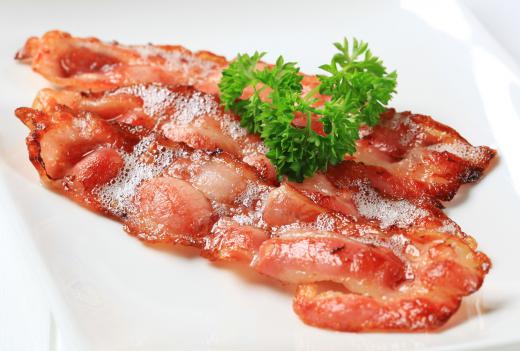 During a power outage, food stored in a refrigerator that rises in temperature to over 40°F for more than two hours should be discarded. Also, due to temperature fluctuations, don't store meat on the door. It is important to maintain your refrigerator's temperature by keeping the door closed as much as possible. A refrigerator thermostat may also be helpful in monitoring your refrigerator's temperature.
As always, follow proper cooking instructions when preparing any meat to kill any potentially harmful bacteria. The following is a list of how long certain refrigerated meats will be safe to eat:
Cooked leftovers, four days
Raw eggs, three to five weeks
Hard boiled eggs, one week
Stuffed pork and lamb chops or chicken breasts, one day
Ground beef/chicken/turkey/veal, one to two days
Stew meats, one to two days
Ham, three to seven days
Hot dogs, one week if opened, two weeks if unopened
Bacon, seven days
Steaks/roasts, three to five days
Poultry, one to two days
Fresh fish/shellfish, one to two days
The raw meats in the list above are based on the time since they are brought home from the store. The list also presumes proper care from the store to the home (e.g., not leaving raw meats out in a parked car in the sun for extended periods of time). Of course, meats can and have been known to still be safe for longer periods, but this list contains, safe, preferred time guidelines.
AS FEATURED ON:
AS FEATURED ON:








By: .shock

Meat being packaged at a processing plant.

By: Viktor

Uncooked bacon can safely stay in the refrigerator for a week.

Sliced frozen meat.

By: Piotr Pawinski

Most foods can be stored in a refrigerator for at least several days.

By: M.studio

Fresh shellfish should only be stored in the refrigerator for a day or two.

By: Brenda Carson

An opened package of hot dogs can stay fresh for a week in the refrigerator.

By: Natika

Hard-boiled eggs stay good for one week in the refrigerator.

By: Andrey Starostin

As a rule of thumb, refrigerated chicken should be used within three days.

By: Michael Gray

Raw meat should be stored away from refrigerator doors to prevent it from warming up each time the refrigerator is opened.