What are the Different Types of Cheesecake?
Cheesecake is available in many different flavors, but the two main types of cheesecake are no-bake and the traditional baked type. The baked variety usually uses eggs, which is why cooking is required, and it has a heavier consistency and rich texture. The no-bake variety may be made from a mix or from a simple recipe, and it is lighter and fluffier. Both types require refrigeration.
There are no-bake, no fuss cheesecake mixes available, complete with everything you need to make the crust and the filling. All you have to do is add butter or margarine to the graham cracker mixture and pat it into a pie pan. Next, add milk to the filling mixture -- which is much like pudding -- stir it, pour it into the pie shell, and chill until firm: instant cheesecake.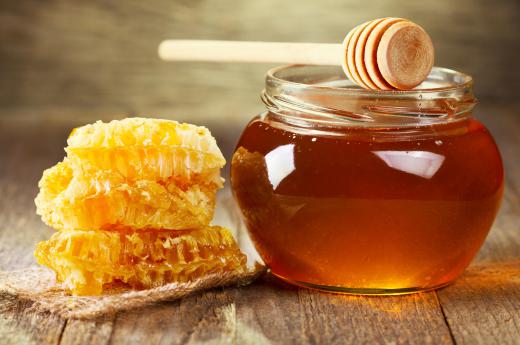 All authentic cheesecake contains cream cheese, which is how it got its name. There are, however, low-fat or low-calorie options that contain fat-free or low-fat cream cheese, blended cottage cheese, or tofu. Most "light" options are made from adapted no-bake recipes, combining low-fat cheeses with light whipped topping.
There are many recipes available for cheesecake, and they incorporate everything from the everyday to the exotic. Fruits, nuts, and candies may be added for a change in flavor or texture, and berry or cherry toppings are frequently used. Chocolate syrup, shavings or chocolate chips are common favorites, and adding tropical fruit gives cheesecake a delightful twist. Pumpkin may be added for holiday cheesecake, or the cake may simply be decorated with holiday-inspired treats such as spearmint leaves or candy canes.
Different types of crust may also be used for cheesecake to make it even more special. Cinnamon or chocolate graham crackers may be substituted for the regular or honey graham crackers traditionally used in cheesecake crust or the crust can be made from crumbled cookies. Ready to use chocolate cookie crust is available in most grocery stores, but you can also make your own from your favorite cookies. Cheesecake crust can also be made from animal crackers or vanilla wafers to create a lower fat option, or you can get creative and experiment with your own recipes.


By: Ildi

Tofu can be used in a low-fat, low-calorie cheesecake.

By: Okea

Chocolate shavings are a popular topping for cheesecake.

By: Nitr

Some cheesecakes are sweetened with honey.

By: matka_Wariatka

Cheesecake recipes incorporate both fruit and nuts.