What are the Different Types of Coffee Drinks?
The global expansion of franchises such as Starbucks® have shown us that coffee means big business, and that there is a huge demand in the marketplace for different types of coffee drinks. Whereas the average local coffee shop once offered little more than regular and decaf on their menu, independent coffeehouses, restaurants, and even vending machines have added a large variety of coffee drinks to their menu in recent years to stay competitive. With the addition of steamed milk, cocoa, cinnamon, flavored syrups or "shots," alcohol, and other ingredients, coffee can be transformed into any number of specialty coffee drinks.
One of the most popular coffee drinks made with steamed milk foam is the cappuccino, which originated in Italy but has expanded beyond Europe to become a worldwide favorite. Another Italian coffee drink, café latte, is also made with steamed milk foam; however café lattes contain much more milk foam than cappuccinos. Many other variations have been made to the traditional cappuccino and latte, such as adding cocoa to create a mocaccino or café mocha, as well as adding flavor shots or ice to create an iced coffee drink. Both cappuccinos and lattes include espresso, an extremely concentrated type of coffee which contains roughly two to three times the caffeine of a regular cup of coffee. Espresso is also one of two ingredients in another type of coffee drink, café macchiato, which is additionally composed of a teaspoon of steamed milk foam.
In addition to coffees which already have a unique flavor upon brewing, such as French vanilla roast, flavor shots can also be added to regular coffee to create different types of coffee drinks. Some of the most popular flavor shots added to coffee include hazelnut, butter pecan, raspberry, caramel, banana, mint, orange, and almond. Shots of liqueur, such as Baileys® Irish Cream, Amaretto, and Tia Maria® can also be added to coffee, and are often available as as an after-dinner drink in restaurants. Irish coffee is a particularly popular type of alcoholic coffee drink, and contains coffee, Irish whiskey, sugar, and cream. On Saint Patrick's Day, Irish coffee makes for an easy alternative for bar patrons who wish to forego the traditional green beer, but still celebrate.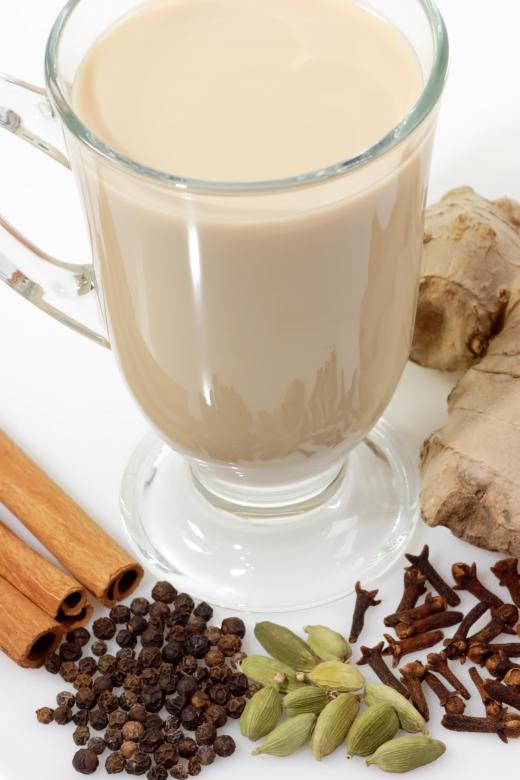 In addition to drinks that contain coffee, there are also drinks which contain no coffee at all, but are still grouped amongst coffee drinks due to their wide availability in most coffee shops. Some of these drinks include: chai lattes, steamed milk, fruit smoothies, gourmet hot chocolate, and green tea lemonade. Decaffeinated coffee drinks are also offered in most coffee shops, and prepared by simply replacing the coffee portion of the drink with decaffeinated coffee and leaving all other ingredients the same.
AS FEATURED ON:
AS FEATURED ON:








A cappuccino.

A chai latte.

By: magkrepa

Coffee and coffee beans.

By: ronstik

Ground coffee.

By: uwimages

A large cup of take out coffee from a coffee shop.

By: Alessandro Capuzzo

Espresso is a popular specialty drink at many coffee shops.

By: vlorzor

Milk is steamed to create a latte.

By: Eskymaks

Mocha coffee may be enjoyed hot or cold.

By: rgbdigital.co.uk

Blenders can be used to make icy coffee drinks like frozen lattes.

By: bit24

Many coffee drinkers prefer sugar in their coffee.

By: sinada

Some coffee drinkers believe that freshly ground Kona beans result in the best cup of coffee.

By: Gresei

Irish whiskey is an ingredient in the alcoholic coffee drink known as Irish coffee.