What Are the Different Types of Donut Ingredients?
Donuts are a popular, sweet snack in many countries but especially in North America. Purchased from dedicated shops or grocery stores or made at home, donuts can be light and fluffy or dense and cakey. They come in a variety of shapes such as rings, squares, and rectangles, with or without holes. Even the holes themselves are made into bite-sized treats. There are different types of donut ingredients, including the dough, fillings, and toppings.
All donuts are made from the same basic ingredients. Cooks always use flour, eggs, and water, as well as a form of oil or shortening, milk, and salt. Light, puffy donut ingredients also include yeast. Denser, cake-like donuts do not incorporate yeast but often include ingredients such as sour cream, vanilla, and baking soda. After these basic elements are combined, the cook fries the donuts in oil until they are golden in color.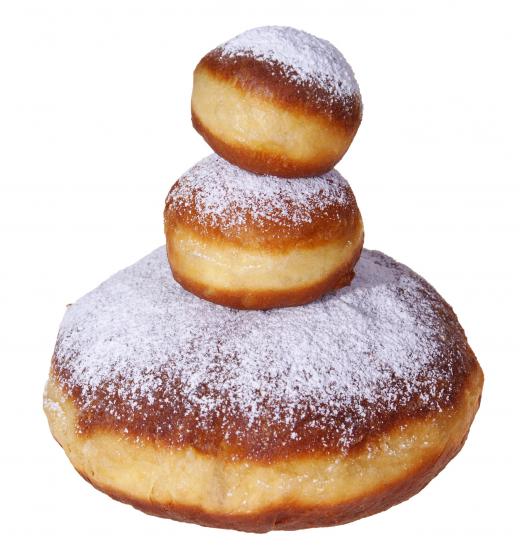 Other common donut ingredients include fillings that the cook injects into the center of the donut. There are numerous types of fillings, all of them sweet. Jam or jelly is very popular, and they typically consist of fruit mixtures such as raspberry, strawberry, and blueberry. Fresh cream and thick custard or pastry cream are also very popular, like the iconic Boston cream filling. Other fillings consist of sticky and rich chocolate, toffee, or vanilla sauce.
A range of toppings are also included in donut ingredients. Many kinds of donuts are covered with a shiny glaze. This glaze, which can be thick or thin, is made from confectioners sugar and milk. Cooks can add a variety of different colors to the icing, which can be seasonal, themed, or natural. Flavors vary as well, with chocolate, vanilla, and maple being typical examples.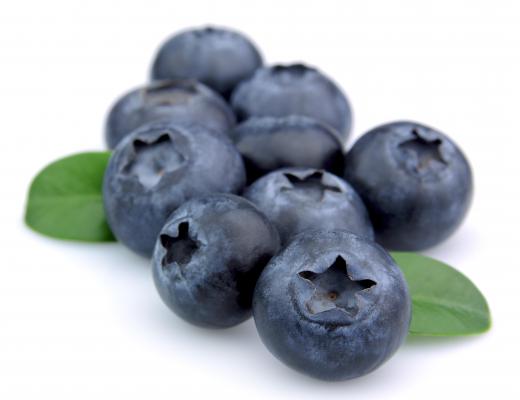 The icing mixture is brushed over the hot donuts, becoming solid and glossy as it cools. Cooks can also roll the donuts in granulated or powdered sugar while the donut is still wet with hot oil. Other popular donut ingredients used for toppings include nuts. Chefs often roast the nuts, which may include almonds, hazelnuts, and peanuts, and then sprinkle them over the wet glaze.
Finally, many people, especially children, enjoy donuts with candy sprinkles on them. These donut toppings have the greatest variability. They are available in a wide range of colors, and chefs sprinkle them onto the top of the glaze in a single color or in combinations. Typically sphere or rod shaped, they are also available in seasonal or themed shapes, for example, miniature holly and berries at Christmas. Although they do not have particular flavors, they do add a pleasing, crunchy texture to the donut.
AS FEATURED ON:
AS FEATURED ON:








Donuts.

By: Vidady

Baking soda, one of the ingredients in donuts.

By: margo555

Blueberries, which are sometimes included in donuts.

By: gcpics

Chocolate glazed donuts.

By: Roman Ivaschenko

Raspberry jam is a common filling in a jelly donut.