What Are the Different Types of Finger Desserts?
A finger dessert, also commonly referred to as a mini dessert or petite dessert, is a type of small, bite-sized sweet dish that generally does not require the use of utensils. This type of dessert may be recommended for events, such as cocktail parties, in which attendees may be standing in order to make eating more convenient. It may also be preferred by people who wish to consume dessert, but in smaller amounts than traditional serving sizes for health or other personal reasons. There are a variety of different finger desserts, ranging from traditionally small sized confections to scaled down versions of larger desserts.
Petit fours tend to be one of the most traditional types of finger desserts. The dessert generally consists of a bite-sized piece of cake, ranging from rich, dense flavors like chocolate to light sponge cake, that is decorated with a rich frosting or light glaze. Petit fours are often served with tea or coffee at the end of a meal.
Another one of the different types of finger desserts are truffles. Truffles are a small confection made primarily of chocolate, butter, and cream that is melted together until it is smooth and creamy, and then chilled. The chilled mixture is typically rolled into small ball shapes that are coated in cocoa powder. Due to the concentrated richness of the chocolate flavor, truffles are usually served as bite-sized pieces to prevent their taste from being overwhelmingly sweet.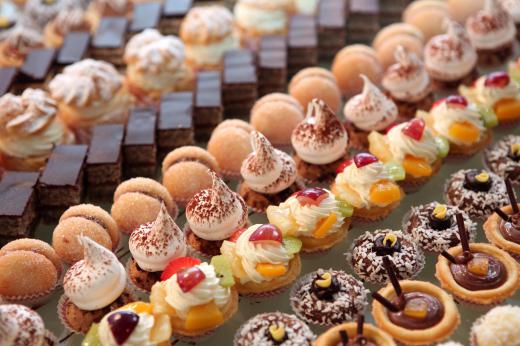 While some finger desserts are traditionally made small and tend not to have larger sized counterparts, a variety of other finger desserts are often miniaturized versions of basic desserts. Some of the most common desserts that are often scaled down to bite-sized versions include cheesecake, cupcakes, and fruit tarts. These mini desserts are generally made with bakeware that is specially designed for miniature versions and typically consists of multiple small round cups or pockets that are approximately half of the size of standard bakeware.
Finger desserts are often displayed on a platter and served buffet style, in which a person serves him or herself by taking the dessert directly from the platter. Utensils are usually not available with the desserts and in some instances, plates may also not be provided. Due to the informal serving style that typically accompanies the small desserts, it tends to be advised to ensure that the dessert can be easily consumed in one to two bites and has a minimal amount of possible untidiness from crumbs or fillings.
AS FEATURED ON:
AS FEATURED ON:








By: rvlsoft

Chocolate and nut confections.

By: Gordana Sermek

Finger desserts on display at a bakery.

By: Angel_a

Chocolate truffles.