What Are the Different Types of Greek Cheese?
Greek cheeses are many and wide in variety, with many colors, flavors, and textures. For the most part, each area in Greece has its own regional style of cheese, and may have several local types of cheeses. They can be hard or soft and aged or fresh, and they come in many colors. The most popular and well known variety of Greek cheese is feta. Other popular types of cheeses made in Greece include myzithra, kasseri, and graviera.
The most well-known varieties of Greek cheese are generally graviera, feta, and myzithra. Graviera is a hard cheese made from sheep's milk or cow's milk, depending on the region. It is generally known as a slightly sweet hard cheese and as a versatile cheese that can be used grated or cooked in many types of dishes.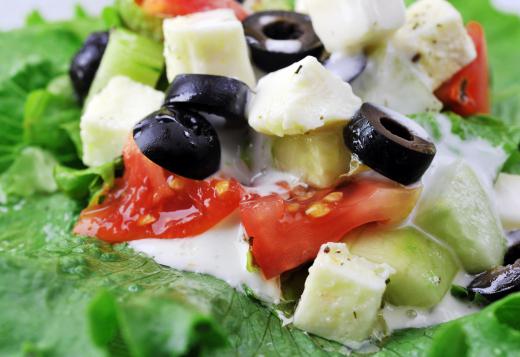 Feta cheese is generally recognized as a soft, crumbly Greek cheese, but feta can also be hard. This type of Greek cheese is widely popular and is recognized all over the world. Though it is usually made with sheep's and goat's milk in Greece, many types of feta sold outside of Europe in countries like the United States are made with cow's milk. Buying a certified Greek-produced feta cheese is the only way to ensure that the cheese is genuine sheep's or goat's milk feta.
Myzithra is a popular Greek cheese eaten in Greece and in other countries to which it is exported. It can be fresh and soft or hard and aged. Myzithra, also spelled mizithra, is a type of manouri cheese, which is a group of Greek cheeses made from the whey of the production process that makes feta.
Aged myzithra is slightly off white and hard. It is generally used for grating in pasta and on salad. Aged myzithra is salted, dried, and aged to achieve its popular flavor and texture.
This type of aged cheese can be prepared with or without yeast in the cheese mixture. Yeast in hard Greek cheese gives the flavor a slight tang. Myzithra with yeast is often called sour myzithra. Other hard Greek cheeses include kefalotiri and metsovone.
The soft type of myzithra, also known as anthotyro, is fresh and unsalted, with a texture somewhat like cottage cheese or ricotta. It is often used as a dipping or spreading cheese or baked in cheese pies. Other soft Greek cheeses include katiki and touloumotyri.
Historians have largely credited Greece with the invention of the cheesecake, though early cheesecakes in Greece were often savory. In Greece, rather than cream cheese, traditional cheesecakes were often made with soaked hard cheeses. The types of cheeses used in cheesecakes made with Greek cheese can vary, but varieties of cheese generally used in the traditional Greek cheesecake recipes include feta and myzithra.
AS FEATURED ON:
AS FEATURED ON:








By: Denis Tabler

Feta is a soft, salty cheese often added to Greek salads.

By: Alexey Stiop

Greek cheese is commonly made from sheep's milk.

By: Lilyana Vynogradova

Feta cheese can be hard, but it's often recognized as a soft, crumbly Greek cheese.

By: kostrez

Versatile graviera cheese can be made using either cow's milk or sheep's milk.