What Are the Different Types of Greek Food?
Greek food is characterized by natural, unprocessed ingredients that are not overly spiced. Main dishes are made with fresh vegetables, olive oil, grains and pasta. Lamb and beef are paired with vegetables in such offerings as moussaka — an eggplant and beef dish — and dolmades, or stuffed grape leaves. Desserts get their sweetness from local honey.
A meal at a restaurant serving traditional Greek food may begin with a salad filled with fresh green lettuce, peppers, cucumbers and tomatoes. Feta cheese, a traditional Greek cheese with a crumbly texture and briny taste, is liberally spread over the salad, along with purple kalamata olives, red wine vinegar and olive oil. It often is served with crusty, baked loaves of bread.
Moussaka is a baked dish made with ground beef, eggplant and tomatoes. Fresh herbs and spices lend a contrast to a creamy sauce made from flour, eggs, cheese and butter. Pastitio is a mellow cheesy dish filled with pasta, tomatoes and ground beef.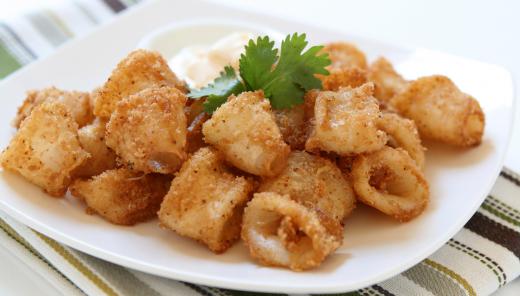 Roast chicken often is spiced with oregano and baked surrounded by quartered potatoes. Leg of lamb is a traditional holiday dish that is flavored with garlic and rosemary, and served with roasted onions and potatoes. Steaks are marinated in olive oil and herbs before they are put on the grill.
Greece is surrounded by water, and many Greek food recipes include seafood. Psarosoupa is a fish soup made of grouper and fresh vegetables such as potatoes, carrots and onions in avgolemono, an egg and lemon broth. Fresh, small sardines that are rubbed with oil and vinegar, and gavros, which are fried anchovies served with vinegar, are both popular snacks and light meals. In season, calamari, or crispy fried rings of squid, are heaped on plates along with spicy dipping sauce.
Souvlaki is a popular snack in Greece and a well known kind of Greek food. Slivers of meat are shaved off a large cone of lamb and beef and served in warm pita bread with onions, tomatoes and feta cheese. Souvlaki is sometimes served with a vinegary tomato sauce or, more often, a yogurt sauce rich with garlic and cucumber essence. It also is known as a gyro, which is pronounced "YEE-row".
Dolmades is made with grape leaves that are stuffed with ground lamb, bulgar wheat and spices. The rolled leaves are boiled in chicken broth and served with a lemon and egg sauce. Another traditional appetizer is marinated feta cheese served with black olives and peppers in a balsamic vinegar sauce.
One might want to save some room for dessert when eating Greek food. Greek desserts are confections usually made with phyllo dough — a delicate and thin pastry dough — nuts and honey. Baklava is a dense, rich pastry cut into triangles or diamonds and served. Loukomades are fried doughnuts that are dipped in honey sauce.
AS FEATURED ON:
AS FEATURED ON:








Fried calamari.

Kalamata olives.

A gyro sandwich.

By: James Martin

Roast chicken often is spiced with oregano and baked surrounded by quartered potatoes in Greek dishes.

By: alextois

Fried anchovies served with vinegar are a popular Greek snack.

By: Denis Tabler

Greek salad with feta, olives, and romaine lettuce.

By: Andrey Starostin

Herb-roasted chicken is a staple in souvlaki and other Greek dishes.

By: Colinda McKie

Greek yogurt has gained popularity in dips and deserts.

By: Picture Partners

Sardines are a typical Greek food.

By: asife

Greek yogurt drizzled with honey is a simple yet nutrient-rich dessert eaten in Greece.