What Are the Different Types of Greek Sweets?
Greek sweets come in a range of shapes and sizes, from the phyllo dough-based dishes such as baklava and kataifi to rich ravani butter cakes. Many sweets, such as loukoumades, are dipped in syrup or honey to give them a glossy, sticky sheen. Nuts such as almonds and walnuts are frequently used in dishes such as karidopita and halva. There are even Greek sweets just for entertaining; they are called spoon sweets and are offered to guests. One defining feature of most of these Greek snacks is that they are very sweet and sometimes very decadent in their use of certain ingredients.
Phyllo dough is the base for many Greek sweets. It is simple flour dough that is rolled until so thin that it is like a sheet of paper. The phyllo dough sheets are usually stacked in a dish with ingredients between them, or the stacked sheets are wrapped around a larger filling. Butter is almost always brushed between the layers of the sheets to help create the flaky consistency for which it is known. There also are recipes in which phyllo dough with butter between the layers is a dessert all by itself.
Baklava is one of the most popular Greek sweets. It is phyllo that has been filled with walnuts and butter and coated in syrup. A variation of the recipe is kataifi. While it uses the same phyllo dough, the dough has been shaped or cut into incredibly thin strands instead of sheets.
Siropiasta is a word used to describe Greek sweets that are drenched in syrup. This group of sweets also includes baklava. Many types of Greek desserts can quickly become siropiasta. A popular option is to soak pantespani, or sponge cake, in syrup. Traditionally, the syrup should be hot and the cake or pastry cold.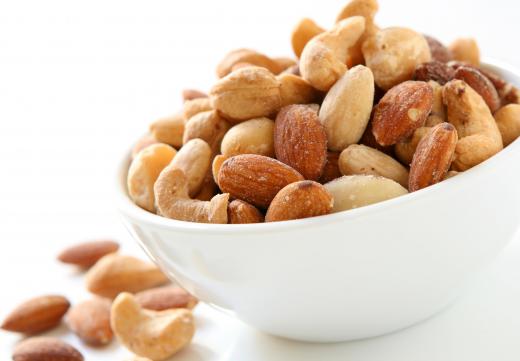 Spoon sweets are a type of small, spoon-sized sweet that are offered to guests. These are most often preserved fruits, though there are other types of spoon sweets. One example, called vanilla, is a combination of sugar and plant resin. These Greek snacks are normally served on a glass or crystal plate with a small spoon.
AS FEATURED ON:
AS FEATURED ON:








By: unpict

Plant resin, which is sometimes used to make Greek sweets.

By: JJAVA

Halva and other Greek sweets are often made using almonds or other nuts.