What Are the Different Types of Luxury Desserts?
While a chocolate chip cookie may do the trick on regular days, a special occasion may call for a dessert that transcends the cookie aisle and becomes a delectable work of art. Luxury desserts go the extra mile in providing decadence, though many may be easily made at home with good ingredients. There are many different types of luxury desserts, including those that rely on unique ingredients, rich flavors, dazzling presentation, or fabulous, non-edible accompaniments.
One good way to elevate a dessert from ordinary to luxury is by including an unusual flavor or rare ingredient. Extremely high-quality chocolate or a splash of a fabulous aged port or whiskey can up a dessert's flair simply through its rarity. For food adventurers, luxurious options may include unusual or off-the-wall flavors, such as chili peppers and chocolate, bacon and caramel, or carrot mousse with saffron cream.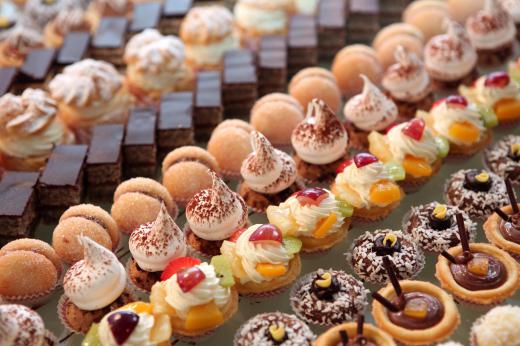 For desserts that are a little less off the wall, a feel of sumptuousness can also be created by using deep, bold flavors in a dish. Ignoring all thought of calories, consider making or ordering specialty desserts that do not skimp on rich ingredients, such as full-fat cream, dark chocolate, or real sugar. Desserts that use fat- and calorie-reducing substitutes may taste thin and artificial, and while better for the waistline, may not be right for a true dessert experience.
Most great pastry chefs agree that presentation is nearly as important as taste when it comes to luxury desserts. Pastry competitions worldwide often feature special categories for visual masterpieces built from spun sugar, molded chocolate, and even ice. Some luxury desserts rely on fantastical presentation to justify their price tag, such as a truffle housed in a three-dimensional spun-sugar cage, or a chocolate gateau accented with 24-karat gold leaf. While extreme elements may be beyond the home kitchen, the principles of presentation can easily be worked into any special dessert. Consider using beautiful dishware for serving, and accent dessert plates with a delicate dust of powdered sugar or cocoa powder, an artful spiral of whipped cream, or a few edible flower petals.
In the land of the super-luxurious, the dessert may be only the side event. Some high-end restaurants and resorts offer special luxury desserts that include stupendous accompaniments, such as diamonds or other precious gems dangling from the dessert itself. Many may include personalized butler service, a rare accompanying champagne or port, or even a string quartet to serenade the lucky diner. While these ultra gourmet items may be reserved for the few, the concept behind them can certainly inspire similar tricks at home. After all, nothing says "Will you marry me?" better than a ring accompanied by chocolate mousse.
AS FEATURED ON:
AS FEATURED ON:








By: Gordana Sermek

Luxury desserts on display at a bakery.

By: pilipphoto

Chocolate mousse made with high-quality chocolate can be a luxury dessert.

By: Stephen VanHorn

Hand-painted truffles are an expensive indulgence.

By: Gresei

Aged whiskey is sometimes used in the recipes for luxury desserts.