What are the Different Types of Mandarin Oranges?
While many people are familiar with mandarin oranges, it is sometimes a surprise to find that there are several different types or varieties of them. Each of these types share some common characteristics, while still having one or two factors that make each type distinct.
Many people choose to purchase mandarin oranges that are canned. Peeled, sectioned, and packed in natural juices, the orange typically utilized in this application is the satsuma. A satsuma tends to set the standard for what people expect when it comes to the taste of mandarins. Because the sections keep very well, the canned satsumas are ideal for use in fruit salads and provide a source of citrus during the winter months.
Gaining popularity on the satsuma is the Clementine. This variety of mandarin oranges is usually grown in temperate climates and produces fruit during November and January. Spain is one of the major producers of the Clementine. In recent years, the Clementine has begun to find additional markets in the form of both frozen and canned sections of the fruit.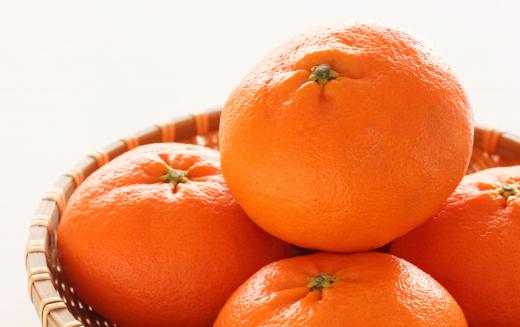 Tangerines also are part of the mandarin orange family. The tangerine tends to have a deeper shade of color to the sections than some other forms of orange. A ripe tangerine will have a deeper orange color, leaning more toward a red tint. Sweet and refreshing, the tangerine is often a favorite fruit around holidays such as Christmas.
The temple orange, or tangor, is a cross between a satsuma and the common orange. This variety of mandarin oranges takes the best qualities of both fruits and combines them into one new type. Juicy and easy to peel, the tangor is an excellent choice for fresh fruit around the house.
In like manner, the rangpur is another hybrid within the family of mandarin oranges. Described as a cross between a mandarin and the lemon, the rangpur has a hint of sour that tempers the sweet taste, providing a fruit option with a little extra bite in both the aroma and the flavor of the fruit.
AS FEATURED ON:
AS FEATURED ON:








By: denira

Mandarins are ideal in fruit salads.

By: hanabiyori

Tangerines have a darker reddish color than mandarins.

By: lev1977

The Clementine is a mandarin orange.

By: Warren Millar

The satsuma is a type of mandarin orange.

By: Rob Byron

Though satsuma oranges are usually canned, they can be sold in packaged form.

By: pilipphoto

Mandarin oranges are frequently added to fruit salads.