What is the Difference Between Mandarins and Tangerines?
While all tangerines are mandarins, not all mandarins are tangerines. Tangerines, in short, are a specific type of citrus fruit within the mandarin grouping, and individuals may hear the mandarin grouping referred to as the "tangerine grouping" in some areas of the world. In addition to tangerines, the group also includes Clementines, satsumas, Dancy oranges, and honey oranges, among others. Tangerines are especially commonly grown and eaten in the United States, where they are sometimes called mandarins, and the two are viewed interchangeably in some parts of the country.
Mandarins come from the Citrus reticulata tree, a small citrus tree native to Southeast Asia. The tree itself is fairly hardy, but the fruits are very delicate, growing only in tropical to subtropical areas. The mandarin was introduced to the West through the city of Tangiers in Morocco, which gave rise to the name "tangerine." This created some confusion between mandarins and tangerines in the West, since people didn't realize that the tangerine was simply a specific mandarin cultivar.
Fruits in the mandarin grouping have a very distinctive thick rind that makes them easy to peel, especially if a person starts around the flower or stem end of the fruit. It is often possible to start peeling and them slip the peel away like a glove, in contrast with other citrus fruits, in which the peel sometimes fights to stay attached, making peeling much more difficult.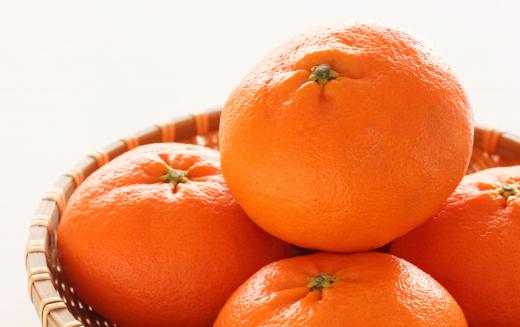 Tangerines are usually distinguished by their reddish color, in contrast with the more orange tones found in other members of the mandarin grouping, and this is sometimes cited as the defining difference between mandarins and tangerines by people who are not aware of the fact that tangerines are mandarins. People most commonly see tangerines sold fresh, usually in the winter months when these fruits are in season. Canned tangerines are often actually canned satsumas which have been mislabeled, as satsumas are renowned for their durability in the canning process.
There are a number of ways to use tangerines and other fruits from the mandarin family. Many people enjoy eating them straight, since they peel easily and the segments usually pull apart with minimal effort. These fruits can also be added to fruit salads, used in jams and jellies, pureed in citrus sauces, and added to breads and sweet treats. In some cultures, exchanging mandarins for the holidays is a common tradition, with fruits which have retained their leaves being especially lucky.
AS FEATURED ON:
AS FEATURED ON:








By: denira

Mandarins have a thicker,easy peel skin.

By: hanabiyori

Tangerines have a darker reddish color than mandarins.

By: berc

Both mandarins and tangerines can be enjoyed as part of a fruit salad.