A fruit platter is a serving tray with different types of cut fruit displayed on it. It is a popular fixture at breakfast buffets, parties, or any type of event where snack foods or appetizers are served, such as baby showers or bridal showers. A fruit platter is easy to make and it is a healthy option that is good for many people, even those who may have certain dietary restrictions. There are a number of different ways to make a delicious and attractive platter, and it can be entirely customized to tastes.
When preparing a fruit platter, the fruit should be as fresh and ripe as possible, especially if it will be eaten that day. Many people try to choose a good mixture of not just different types of fruits, but many different colors as well, which will make the platter look more interesting and decorative. For instance, strawberries, green grapes, pineapple, and cantaloupe are not just delicious varieties of fruit, but varieties of color as well. A small bowl of blueberries can be added for additional color. Other popular fruits for fruit platters include mangoes, honeydew melon, and watermelon, as well as kiwis. Of course, there are no rules, and selecting exotic or seasonal fruits can add variety as well.
Though it is most common to simply arrange the cut fruits on a sectional platter, a fruit platter may also be creatively displayed. Some people hollow out a watermelon or a pineapple, and serve fruit piece in this "bowl." Others may leave the pineapple whole, or keep the top once it is cut off, and leave it as a centerpiece on the platter. Some people may add dried fruit or nuts to the fruit platter to add additional snacking options; just be sure to make it clear that there are nuts included in the platter if allergies are a concern.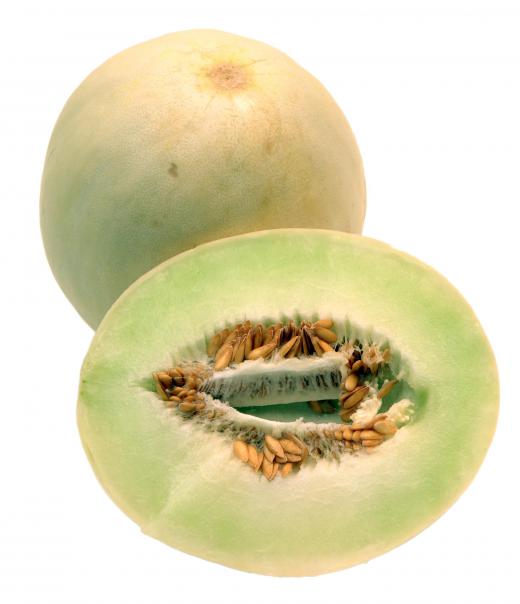 Of course, it is also possible to order fruit platters in stores or online, though they will usually be considerably more expensive than simply making one at home. When they are served, they should be served with napkins or small plates as well as dessert forks so people do not need to use their hands to eat. Fruit gift baskets or fruit bouquets are other popular options for certain events, and these can also include chocolate-covered items as well. They make a common get-well gift.
AS FEATURED ON:
AS FEATURED ON:








Kiwis are often included in fruit platters.

By: robert lerich

Honeydew is often included in fruit platters.

By: Nikolai Sorokin

Bananas, which can be included in a fruit platter.

By: TristanBM

If apples are put on a fruit platter, they should be treated with lemon juice to prevent browning.

By: peangdao

Most fruit platters have a variety of fruit.

By: msk.nina

Green grapes add color to a fruit platter.

By: volgariver

Some people will hollow out a watermelon, using it as a bowl for a fruit platter.