What are the Different Types of Tofu Desserts?
From shakes to cheesecakes, there are many different types of tofu desserts. Tofu is made of the curds of soybeans and absorbs the flavors of others foods with which it is combined, making it an excellent alternative ingredient or main ingredient in many desserts. Tofu desserts provide a way to make traditionally dairy-based and egg-based desserts as vegan dishes or to meet goals for lower-fat and lower-cholesterol options.
It is important to use the appropriate type of tofu for the particular recipe being prepared. In the making of tofu desserts, most recipes call for using a silken type. Silken tofu comes in soft, medium, and firm and extra firm, just as regular tofu does. The consistency of silken tofu is more fragile than that of regular tofu, but it provides a creamier texture that is usually more appealing for desserts.
Some dessert recipes will, however, call for regular tofu. When using regular tofu, the first step is usually to drain and press the tofu. While many traditional Western desserts can be prepared using tofu, tofu can itself be served as a dessert as tofu fa.
Tofu fa, a Chinese dessert, combines soy milk, potato starch, and water in a mixture that is boiled. It is then allowed to cool. A sweet topping, such as syrup, is added before serving.
One of the more popular tofu desserts is vegan cheesecake. This dairy-free dessert uses tofu in place of cream cheese. Other than that substitute, the dessert is made in basically the same manner as the non-vegan dish.
For those avoiding dairy, one of the most difficult desserts to leave behind is often ice cream. Another of the more popular tofu desserts is tofu-based ice cream using silken tofu. A mixture of tofu and non-dairy milk, along with a flavoring such as chocolate or strawberry, is blended together and then placed in an ice cream maker.
Different chocolate dishes, from chocolate mousse to chocolate pie, can also be made as a tofu dessert that will please vegans, vegetarians, and dieters. In most recipes, silken tofu is used to replace dairy ingredients. Non-dairy milks, such as rice or soy, are used in place of dairy.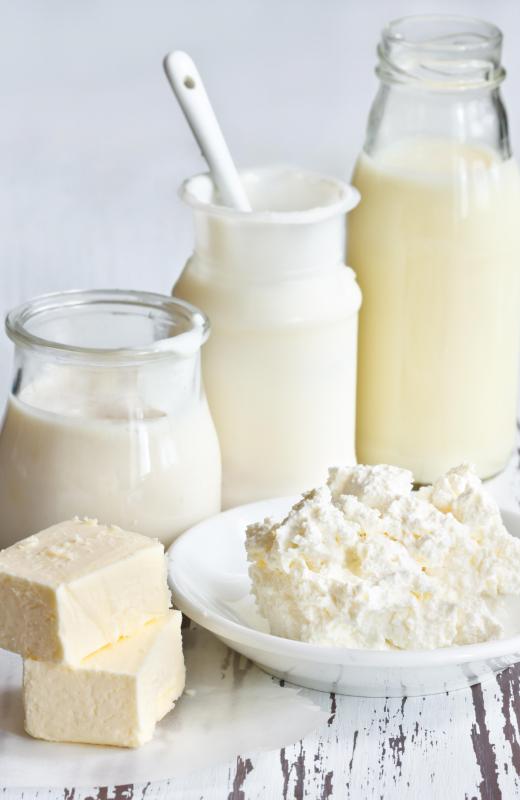 Nearly any pie or cake recipe can be turned into a tofu dessert. Mashed tofu can often replace eggs in pie or cake recipes. Consider making favorite pumpkin pie, key lime pie, or other such dessert recipes using tofu as a substitute for eggs or dairy-products.
AS FEATURED ON:
AS FEATURED ON:








By: Norman Chan

A plate of tofu.

By: pilipphoto

Chocolate tofu can be used to make chocolate mousse.

By: lidante

Many people are allergic or sensitive to dairy products or avoid them for ethical reasons.