A ball whisk is one of many different kinds of kitchen utensils in the whisk family. Looking more like modern art than a tool for mixing, each wire on the whisk ends in a weighted ball. This new design for whisks is said to make mixing and washing both easier and quicker.
There are usually twelve beaded wires — eleven long surrounding one shorter wire — which move independently. The weight on the end of each wire makes a cook's strokes more efficient, incorporating air more thoroughly into the food or liquid being beaten. Some cooks report overmixing food the first few times they use a ball whisk, because they are used to a regular wire whisk. However, people are generally able to adjust their strokes fairly quickly.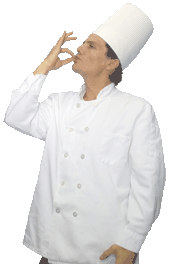 Along with increased efficiency, the weighted balls and individual wires on this whisk helps it to be effectively used in containers of all different shapes. The beaded wires reach into corners, and work at any angle. They can whip cream or eggs, stir liquid and batters, blend sauces in saucepans, and mix dry ingredients. A ball whisk may be used on the stovetop or in mixing bowls.
A stainless steel ball whisk is extremely easy to clean. There are no nooks or crevices for batter to get stuck in, making it more sanitary. They are dishwasher-safe, but can also be cleaned easily and quickly by hand. When buying a ball whisk, make sure that the area where the wires attach to the handle is sealed, to keep food and liquids from accumulating in areas that are difficult to clean.
Ball whisks are usually ten to fourteen inches (25.4 to 35.6 cm) long, including a hook at the top for hanging on a rack or the wall. A mini version is usually about eight inches (20.3 cm) long and can be used for mixing or whipping ingredients in smaller containers. As with the larger whisks, the weighted balls vibrate and reach into each corner and edge, shortening whisking time.
AS FEATURED ON:
AS FEATURED ON:








Chef