What is a Birch Twig Whisk?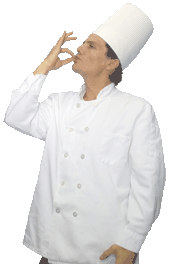 A birch twig whisk is a kitchen tool designed for working with light ingredients and sauces. Most cooks consider it to be a highly specialized type of whisk, and many cooks get along just fine without one. However, cooks who have difficulty with delicate sauces such as bechamel may find that using a birch twig whisk makes the task easier. Many historical re-enactors also work with birch twig whisks, since the tool would have been available historically.
At first glance, a birch twig whisk looks like a miniature broom. It is made by tightly binding long, stiff branches together and leaving the ends loose. The result is a whippy, highly flexible whisk which cannot stand up to heavy ingredients, although it is ideal for thin sauces and light gravies. Traditionally, the twigs are made from birch, although other woods or even straw may be used as well. A variation, the Swedish whisk, is often made from straw.
Cooks use a birch twig whisk just like any other whisk, to mix ingredients together evenly while also whipping air into the mixture. A birch twig whisk can be used in non-stick pans, unlike a metal whisk, and the flexibility allows it to reach into small or tight corners, as well. When whisking delicate sauces which might burn, a birch twig whisk may be a better choice than a conventional whisk, because it can cover more of the saucepan.
Generally, a birch twig whisk is not dishwasher safe. To clean a birch twig whisk, swish it lightly through a mixture of warm water and soap until it is visually clean. Rinse the birch twig whisk with warm water, and hang it to dry. Make sure to store the whisk in a safe place, so that it will not lose its shape or be broken by other kitchen implements. As with other whisks, hanging may be the best storage technique, and it also puts the tool in a handy place.
To make a bechamel sauce with a birch twig whisk, start by making a roux from equal parts butter and flour. Melt the butter in a saucepan over low heat, and add the flour, whisking until the mixture is thoroughly combined and cooked. Scald milk in a separate pan and add it to the roux, along with dried thyme, cloves, onion, nutmeg, and a bay leaf. Cook, whisking, until the sauce is smooth and thick, and then strain it through a fine sieve to remove the seasoning. This "mother sauce" of French cuisine is the backbone of a wide range of sauces.


Chef