A bench scraper, also sometimes called a dough scraper, is a tool used by bakers to gather sticky bread doughs, scrape the dough off of counter tops and cut and divide dough. The bench scraper is usually made of stainless steel, though some can be made of a stiff, hard plastic.
Bakers should not confuse bench scrapers with their more flexible cousins, the soft plastic dough scraper that is used to get every last bit of dough out of the mixing bowl. It should also not be confused with a pastry cutter or pastry blender. A pastry blender is a small tool that consists of several metal wires and is used to mix butter into flour. Pastry cutters are usually small metal wheels that function much like a pizza cutter.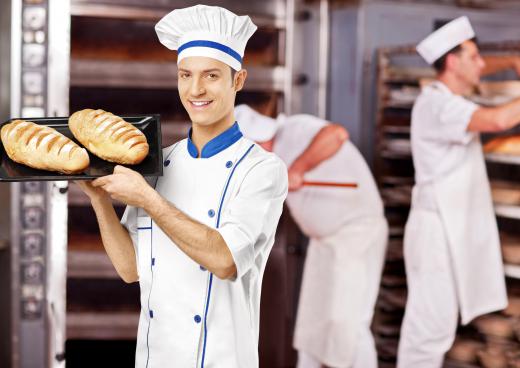 Part of baking bread at home involves turning the bread out onto a floured counter and kneading it. While the bread is being kneaded, small pieces of it may cling to the counter, especially if it is a particularly wet dough. A bench scraper allows a baker to swoop underneath the sticking dough, removing it from the counter with ease. It can also be used in place of a baker's fingertips to manipulate and move wet, sticky dough.
In addition to its use as a tool for preparing bread dough, a bench scraper can also be used to prep pie dough or other pastry dough. A metal bench scraper usually has a sharp edge that can slice through dough without damaging its gluten structure. Bakers often use a bench scraper to evenly divide dough into rolls or smaller loaves. Often, the scraper will have measurement markings along its edge so a cook can can use it to measure the length or width of a roll or loaf.
A cook can use a bench scraper to remove any sticky bits of dough from the counter when she is finished working, without worrying about damaging the counter's surface. The scraper can be used to move dough that has been shaped and rested to another part of the counter or into the oven. It is also an effective tool for gathering small pieces of food at one time and moving them from the work surface to a pan or baking dish.
Metal scrapers are usually about 6 inches long (approximately 15 cm) and about 4 inches high (about 10 cm). Many have wooden handles, though some newer models have ergonomic, plastic grips. Some older styles have metal handles. A bench scraper is not usually very expensive and can be found in kitchen stores, department stores and online.
AS FEATURED ON:
AS FEATURED ON:








By: Ljupco Smokovski

Bakers often use bench scrapers to divide dough.

By: Alex Tihonov

A bench scraper may be used to gather up scraps while kneading dough.

By: fabiomax

A bench scraper can be used to clear off bread dough from surfaces.