What Is a Blueberry Bagel?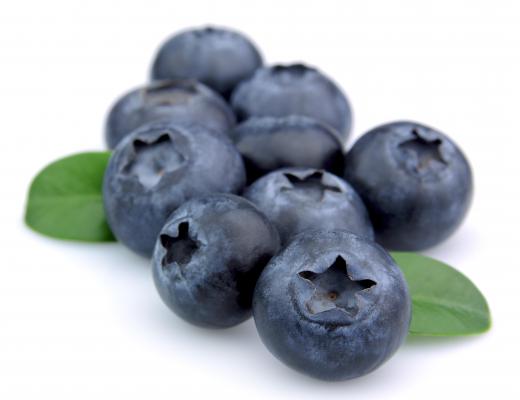 A blueberry bagel is a variety of bagel that has blueberry flavoring, often from syrup or actual blueberries, baked into the dough. Most commonly thought of as a breakfast food, blueberry bagels are often served with orange juice, eggs, and other breakfast items. They can be easily frozen for storage and then defrosted and toasted for a quick and simple breakfast that can be eaten on the way to work or school. Many different breakfast food and bakery brands offer at least one type of blueberry bagel, and some package blueberry bagels together in variety packs with other popular breakfast flavors such as strawberry and cinnamon raisin bagels.
While most bagels, especially flavored bagels such as the blueberry variety, can be eaten plain, many people who eat bagels enjoy them with a cream cheese topping or another type of bagel spread. Some people prefer unflavored cream cheese in combination with a blueberry bagel, while others enjoy matching the bagel's flavor with blueberry cream cheese. Contrasting topping flavors, such as strawberry or cinnamon, are somewhat less popular with blueberry bagels than with regular white or wheat bagels, but are still used by some people. Peanut butter, honey, jelly, and butter are other common options for blueberry bagel toppings.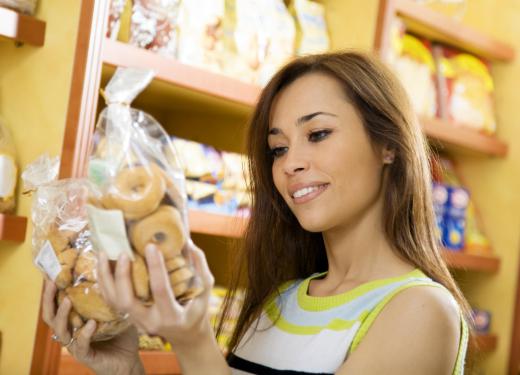 Bagels are frequently used for sandwiches as well, to replace sliced sandwich bread or buns. Due to the fruity flavoring of the blueberry bagel, however, it is less commonly used for sandwiches than other types of bagel. Blueberry bagels with light flavoring may be more readily used for sandwiches by the majority of consumers than bagels with a heavy dose of blueberry flavoring and plenty of whole blueberries or blueberry chunks that conflict with the flavor of the rest of the sandwich. The exceptions to this are sandwiches composed mainly of ingredients normally put on a blueberry bagel, such as honey or peanut butter sandwiches.
Blueberry bagels are not typically among the first choices of breakfast foods for dieters attempting to lose weight. They contain plenty of carbohydrates and calories and are often paired with high-fat and high-calorie toppings such as cream cheese, butter, or peanut butter. Some dieters who enjoy bagels may choose to eat half of a blueberry bagel at a time instead of the whole thing. Healthier toppings can also be used. Blueberry bagels that are lower in calories than regular blueberry bagels do exist, although the calorie difference is usually not large enough to make a significant impact.


By: margo555

Blueberries.

By: Michael Gray

Blueberry bagels often have real blueberries baked into the dough.

By: diego cervo

Blueberry bagels from the deli are often spread with cream cheese and served for breakfast.

By: uckyo

Peanut butter is a common topping on a blueberry bagel.