What is a Breakfast Roll?
A breakfast roll is a roll filled with breakfast foods. In the United Kingdom and Ireland, breakfast rolls may be filled with traditional British and Irish breakfast meats, eggs, and perhaps cheese and some kind of sauce. Similar breakfast foodstuffs exist elsewhere and are often served in a fast food or street food context, as the breakfast roll primarily serves as a convenience food. In the United States, what the British call a breakfast roll is better known as a breakfast sandwich and is often served on a wide range of breads. Other variations include breakfast burritos, breakfast tacos, and breakfast paninis.
The breakfast roll is an easy and convenient way to consume a full breakfast. While most breakfasts require the eater to sit down at a table, knife and fork in hand, a breakfast roll permits the eater to dine on several items at once, on the go and sans utensils. Typical breakfast meats in a breakfast roll include bacon, sausage, and black pudding, also known as blood sausage. Eggs and hash browns may also be added to the breakfast roll along with brown or red sauces, red sauce being ketchup and brown sauce being a savory condiment.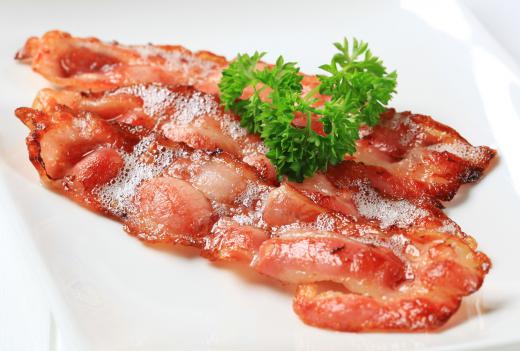 Many fast food places and coffee shops in the United States offer breakfast sandwiches, often containing similar ingredients as the breakfast roll of Ireland and the United Kingdom. Restaurants selling breakfast sandwiches in the States may offer customers a choice of bread, including toast, bagels, or even pancakes. Popular fillings for breakfast sandwiches in the United States include cheese, sausage patties, and eggs. Some restaurants now offer breakfast paninis, which include similar ingredients prepared on bread that is prepared on a panini press.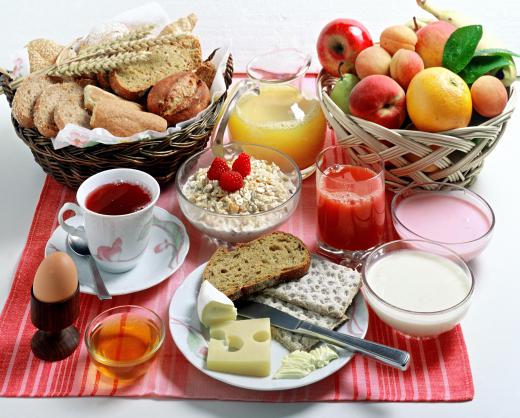 A twist on breakfast rolls that has become popular in some areas is the breakfast burrito. The breakfast burrito consists of a large tortilla stuffed with various breakfast foods. In some cases, the breakfast burrito is seasoned with salsa and other sauces that give it a distinctly Mexican flavor, though some breakfast burritos are simply so-called because of the use of a tortilla wrap. Traditional breakfast burritos may contain eggs scrambled with peppers and onions, chorizo, which is the traditional Mexican sausage, as well as cheese and salsa. Other variations on a breakfast burrito include breakfast tacos, which are smaller, and the tortilla is simply folded and stuffed with ingredients rather than wrapped in a burrito style.
AS FEATURED ON:
AS FEATURED ON:








By: Viktor

Bacon is a common addition to a breakfast roll.

A continental breakfast including breakfast rolls.

Blood sausage, which is sometimes served with breakfast rolls.

By: JJAVA

Breakfast burritos are a twist on the breakfast roll.

By: JJAVA

Robust salsa is a traditional accompaniment to a savory breakfast burrito.

By: michelaubryphoto

In the United States, bagels are sometimes used for breakfast sandwiches.