China has dumplings and egg rolls, Italy has ravioli and calzones, the French have crepes, and Americans have corn dogs. Although these four cuisines and the dishes described are very different, they all have something in common. All of the foods listed above are, in the most basic sense, a protein wrapped in a starch casing. The northern Mexican version of this international culinary concept is the burrito. It is made up of a flour tortilla filled with either beef, chicken, or pork.
It is interesting to note that this dish is much more popular in the United States than it is in Mexico. In fact, most Mexican restaurants in the central and southern part of the country do not serve the dish unless they are catering to tourists from North America.
While the burritos that are served in American are generally thick and filled with many ingredients in addition to meat, those which are served in Mexico are generally quite thin and filled only with meat. Mexican cuisine has become quite popular in the United States over the past few decades. This trend has become evident even in American fast food.
In addition to the traditional meat filling, American burritos often have many other ingredients folded into their soft tortilla shell. They commonly include black beans, pinto beans, rice, salsa, pico de gallo, guacamole, avocado slices, tomatoes, cheese, and sour cream. Furthermore, some restaurants use shrimp and other kinds of seafood in specialty burritos.
In American restaurants, it is common to grill burritos once they have been filled and folded. Furthermore, many vegetarian-friendly restaurants serve them with no meat at all, which hardly represent the original dish at all. Vegetarian options often include spinach, broccoli, extra rice, beans, avocado, and other vegetables. As often happens when a traditional dish is appropriated and popularized, burritos have been translated many times over to satisfy different palates.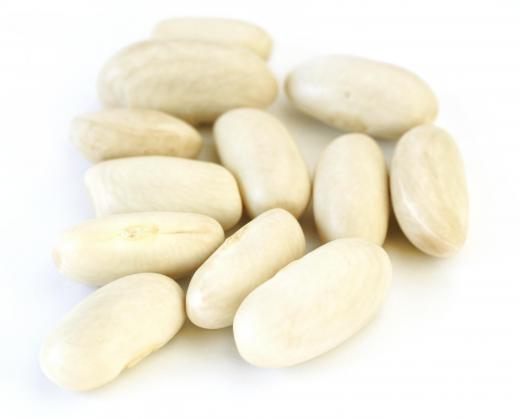 In Spanish, the word burrito literally means "little donkey." It is believed that the dish gained this name because the end of a folded one looks a bit like the ear of a donkey. The etymology of the word may also have to do with the rolled bedding that traveling donkeys often carry.
AS FEATURED ON:
AS FEATURED ON:








By: SunnyS

Traditional Mexican burritos covered in salsa.

By: JJAVA

A variation on the idea of a burrito--a breakfast burrito.

By: Alessio Cola

Spinach is often included in vegetarian burritos.

By: tfazevedo

Beans, which are often used to make burritos.

By: Richard Villalon

Burritos typically contain avocado.

By: Stuart Monk

Guacamole may be included in burritos.

By: Jiri Hera

A simple burrito is made up of a flour tortilla filled with either beef, chicken, or pork.

By: JJAVA

Robust salsa is a traditional accompaniment to a savory burrito.