Caviar is the roe of certain species of sturgeon living primarily in the Caspian Sea between Russia and Iran. These delicate eggs are carefully cleaned, and then lightly salted before canning. Caviar is considered to be one of the world's most prized delicacies, and there is a certain amount of ritual associated with serving it. One such tradition involves the use of a special caviar spoon, designed to prevent the caviar "berries" from acquiring an unpleasant metallic taste.
A caviar spoon is usually carved from a non-metallic material such as glass, bone, natural horn or mother-of-pearl. There is a popular misconception that caviar cannot be served with a metal spoon, however. Caviar itself is packed and shipped in metal cans without acquiring any metallic taste. Some food experts suggest that sterling silver will transfer an unpleasant flavor to the caviar, but an inert metal such as gold will not. There are such things as gold or gold-plated caviar spoons. A plastic spoon can also serve as a caviar spoon in an emergency.
Perhaps the most common material used to create a proper caviar spoon is mother-of-pearl. The pearl material is chemically inert, which means it cannot transfer any unpleasant flavors to the delicate caviar berries. Mother-of-pearl also features an elegant opalescent glow which fits in well with a formal table setting. If you are planning to serve caviar, investing in a set of mother-of-pearl caviar spoons may be an exceptionally good idea.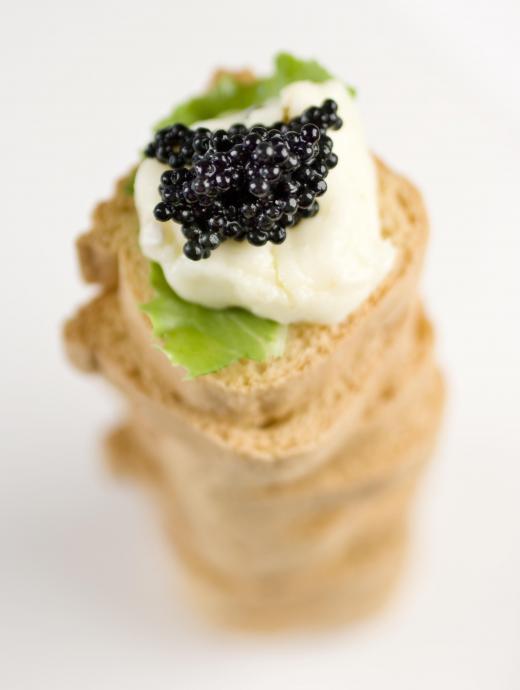 A caviar spoon made of natural horn or bone is also appropriate for serving caviar in a formal setting. The material used is not as important as the spoon's non-reactive nature. A caviar spoon is designed to hold a small amount of caviar as the guest prepares a toast point or cracker to receive it. A communal caviar spoon may be used at a buffet setting, or guests may be offered individual caviar spoons during a seated dinner arrangement.
AS FEATURED ON:
AS FEATURED ON:








By: darkbird

Caviar spoons are designed to prevent the eggs from getting a metallic taste.

By: Betty Abrantes

Caviar appetizer with crème fraîche and basil.

By: kjuby

Caviar spoons can be used to spread the caviar on bite-sized toast slices.

By: Anatoly Ustinenko

The species that produce caviar are primarily found in the Caspian Sea.