A food scoop is a great kitchen tool, used for transferring large quantities of chopped foods from cutting board to pan or bowl. Typically made of plastic or stainless steel, with metal being more common, the food scoop has a handle, and two high sides. The bottom part of the food scoop is a straight line across, allowing you to easily scrape or scoop chopped food onto it for quick transferring. It looks very much like a small metal or plastic dustpan, with a flat bar for a handle instead of a long protruding handle.
Some chefs forgo the food scoop in favor of just scooping up chopped food with the flat of a large chef or butcher's knife. This may be practical when you're only scooping a bit of food at a time, but if you're chopping lots of vegetables, it can save time not to have to make multiple transfers of ingredients. The food scoop can additionally be instrumental in scooping flour together when making pastry, and if the one you have is sufficiently long, you can also use it to mix vegetables that you are sautéing, as long as it is of the metal type and heat resistant.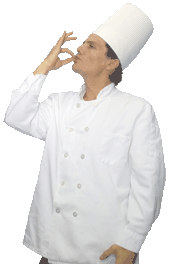 An alternate definition of the food scoop is large scoops used to scoop up contents of foods sold in bulk form. These really do resemble a scoop much more than does the kitchen food scoop. These can also be practical in the kitchen if they come with markings for measurements. Scooping up flour or sugar to make baked goods can be much easier than pouring it. They can further assist in controlling portion size if you are counting calories.
The more standard food scoop for use in the kitchen is not an expensive tool—most cost about $10-15 US dollars (USD). If you do prepare meals that require extensive chopping of vegetables or other ingredients, you may find this utensil extremely useful. You're likely to find food scoops in kitchen supply stores, some large department stores that sell kitchen supplies and also possibly in stores where chef's knives are sold. You can also find many different styles on the Internet for similar prices, though shipping costs may augment price slightly.
AS FEATURED ON:
AS FEATURED ON:








Chef