What is a Quesadilla Maker?
A quesadilla maker makes quesadillas, obviously. So the first place to start is to define quesadilla. A quesadilla is a Mexican/Tex-Mex food. It evolved from a deep-fried empanada to a mixture of cheese and other ingredients folded into a flour tortilla and then baked or pan-fried until the cheese has melted.
A quesadilla maker looks a little like a round waffle iron, in that it has a nonstick metal plate on its top and bottom. The halves are hinged together and close like a waffle iron. The quesadilla maker has some advantages over frying or baking quesadillas. It maintains a more constant temperature and browns both sides of the quesadilla evenly, eliminating the need to turn it in a frying pan or baking dish.
The metal plates of the quesadilla maker are often segmented into wedge-shape portions, so the quesadilla will be easier to serve when it is finished. Quesadillas are often served as an appetizer, so smaller portions are desirable. The plates also seal the tortillas' edges together so the fillings do not leak out.
The most common way of making a quesadilla in it is to pre-heat the appliance. When it reaches the cooking temperature, the cook opens the quesadilla maker and places a flour tortilla on the bottom plate. She then quickly puts the cheese and other ingredients over the tortilla, covers it with a second tortilla and closes the lid. If the quesadilla maker has a timer, she sets it. Otherwise, she waits two or three minutes and lifts the lid. When both tortillas are nicely browned and the cheese is melted, the quesadilla is ready to serve.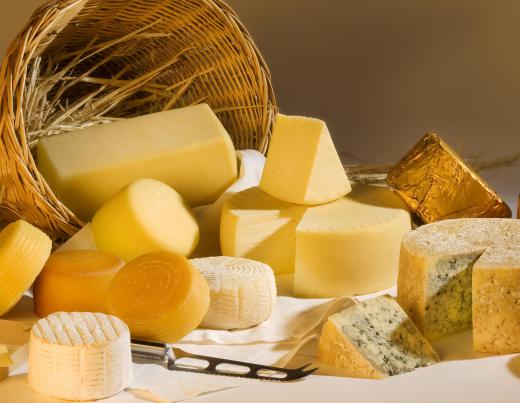 About the only extra feature a quesadilla maker may have is a space on the top for warming tortillas. Otherwise, it is a basic appliance. They can also be used to grill small sandwiches, such as grilled cheese. A quesadilla maker is available anywhere small appliances are sold, including on the Internet. They range in price from as low as US$15 to about $45.
AS FEATURED ON:
AS FEATURED ON:








Tortillas, one of the ingredients in quesadillas.

By: manuart

Monterey Jack, yellow cheddar, and numerous other types of cheese can be melted inside a quesadilla.