What is the Fusilli Pasta?
Fusilli pasta is a popular Italian pasta shape which has been widely exported to much of the world. It is among the most common of the more unusually shaped pastas, since fusilli is highly versatile in the kitchen. It can be eaten plain as a pasta dish, but it can also be baked into casseroles, used in pasta salad, and added to soups. Most markets carry fusilli, and the pasta can also be made at home. A pasta machine will greatly assist cooks who want to try their hand at making fusilli at home.
How Do You Make Fusilli Pasta?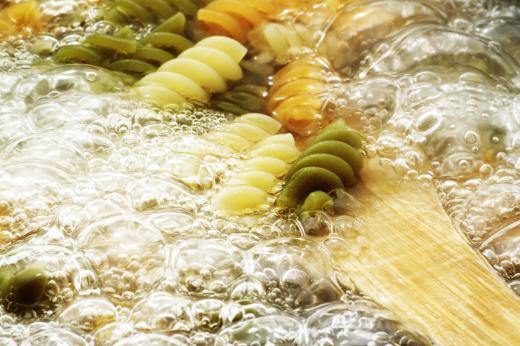 To make fusilli pasta, a wide strip of pasta is gently twisted to form a piece of helical pasta. The pasta is usually trimmed to form multiple short pieces of pasta, rather than one long twisted strip. Some people compare fusilli pasta to a corkscrew or spiral, but the pasta does not technically form a spiral, as it is twisted around an axis. Other pasta shapes like cavatappi and spiralini are actually formed like coiled springs, and could more accurately be termed corkscrew pasta.
What is Fusilli?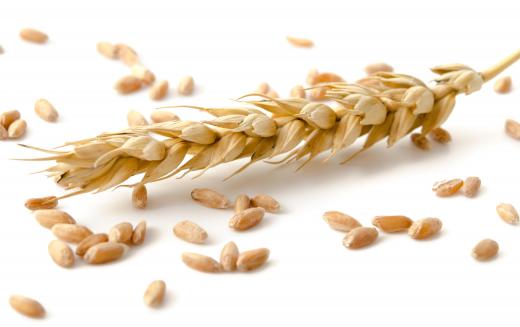 Fusilli is a diminutive of fuso, the Italian word for "spindle." Some people also call the pasta rotini, in a reference to the rotating, twisted shape. Some producers eschew both Italian names, simply labeling their boxes of rotini "twists," which is a simple and rather descriptive name.
What Does Fusilli Pasta Look Like?
The shape of fusilli pasta makes it well suited to hold an assortment of sauces. The small crevices of the helix shape can hold on to thin, very light sauces, while the springy shape holds up under heavy meat sauces as well. The twisted spaghetti is also considered fun to eat by some consumers, especially young diners. This trait can be used to encourage people to finish their dinner, if this is an issue, or to get people interested in the cooking process.
What is Fusilli Made Of?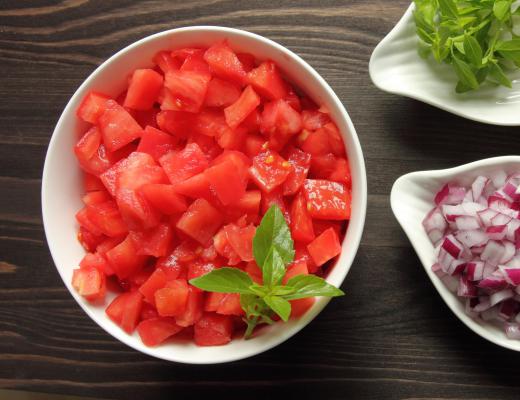 The best fusilli pasta is made with hard durum wheat. This wheat will be dense and chewy when cooked al dente, and it will also help the pasta hold its shape if it is cooked longer. Fusilli pasta made from durum wheat can be used in dishes which need to be reheated, as the pasta will not fall apart as readily as pasta made from soft wheat. At home, fusilli can be made from either hard or soft wheat, and eaten fresh or dried, depending on personal taste.
Varieties of Fusilli Pasta
While hard durum wheat is a commonly used variety of fusilli pasta, you'll find many varieties alongside this durum wheat variety on grocery store shelves. In big-name grocery stores, you can find gluten-free varieties of fusilli, along with whole wheat, rice and lentil, brown rice, and tri-colored fusilli. There also exist varieties of fusilli that are made from chickpeas, lentils, or peas.
Health food stores offer fusilli varieties made from brown rice, quinoa, and cauliflower, as well as varieties made with red lentils and quinoa. Health food stores may even carry cassava fusilli. All of these varieties of pasta have different textures and tastes. If you decide you don't want to purchase fusilli, after all, you can opt to make it at home yourself.
How to Make Fusilli
If you're interested in making fusilli pasta at home, you would benefit from using a pasta shape press to help you get the signature helical shape of fusilli pasta. For your fusilli pasta, you'll need one hundred grams of flour, three eggs, and one egg yolk. You will need to place the flour in the center of your workspace, then create a well in the middle of the flour. Crack the eggs into the well and use a fork to beat the eggs. As you beat the eggs, the flour will begin to incorporate with the eggs. Continue to mix the flour and the eggs until you've formed a ball of dough.
Now you need to knead the dough for about ten minutes. If the dough is too sticky, you can add a little bit of flour to its surface. You can then begin to knead the dough by hand or with a kneading attachment on an electric mixer. After you're done kneading the dough, cover it in plastic wrap and let it rest for thirty minutes at room temperature.
After the dough has rested, you can then roll the dough into long cylindrical pieces that you can now feed into the pasta shape press. As the pasta goes through the pasta shape press, the dough will come out in the shape of fusilli pasta. Cut the pasta to your desired length. Once all of your pasta is cut, let it rest for another ten minutes so it's no longer sticky, then bring a large pot of water to boil. Add salt, then boil the fusilli for two minutes, or until it's al dente. After the pasta is cooked, there are endless possibilities for ways to use the fusilli pasta.
How to Cook With Fusilli Pasta
Fusilli pasta's shape allows sauces to stick to the surface of the pasta very well, including herb-based oil sauces like pesto. As stated above, you can use fusilli pasta in casseroles, pasta salad, or soups. You can also use fusilli pasta with a variety of pasta sauces, including garlic and herb tomato sauce, pesto, or even tossed with oil and herbs. Pasta salad is perhaps one of the more popular ways to incorporate fusilli pasta into a meal.
How to Make Fusilli Pasta Salad
Fusilli pasta works well in pasta salad because it won't break apart or become mushy under the weight of oils or vegetables when used in pasta salads. Most pasta salads combine cheese, vegetables, and a sauce of some sort. For a simple Caprese pasta salad, you can combine balls of mozzarella, basil leaves, cut cherry tomatoes, and drizzle with a dressing of olive oil and balsamic.
Fusilli pasta also works well in a Greek-inspired pasta salad. For this pasta salad, you will need to combine fusilli pasta with crumbled feta cheese, sliced cucumbers, chopped black olives, sliced green onion, chopped roasted chicken, and top with a squeeze of lemon or dash of olive oil. These are only two of many options for fusilli pasta salad. Season each of these pasta salads with your favorite herbs or a simple dash of salt and pepper. Based on the way that people incorporate fusilli pasta into their diets, pasta can be used in a fiber-rich, healthy meal.
Is Fusilli Pasta Healthy?
Fusilli pasta can be a healthy addition to any meal, but the health of the pasta truly depends on the ingredients used to make the pasta. If you choose to cook with whole wheat pasta, you'll get a larger amount of fiber and grains in your meal than if you opted for pasta made with refined flour. Products made with refined flour have more calories and less fiber or nutrients, and there are many benefits to eating whole grain products instead. Whole grain products don't negatively affect blood sugar the way refined products affect blood sugar. Whole grain and whole wheat varieties of pasta also contain fiber, manganese, and selenium.
While pasta is not exactly a low-calorie meal, certain types of pasta can leave you feeling fuller for longer, like whole-grain pasta. You can also incorporate your favorite vegetables or sources of protein into your pasta meal for a nutritious, well-rounded meal.
AS FEATURED ON:
AS FEATURED ON:








By: isrgil

Fusilli and rotini sometimes are labeled the same way.

By: womue

Fusilli pasta is usually made with durum wheat.

By: Profotokris

In the summer, fusilli can be tossed with tomatoes, fresh herbs and cheese for a quick meal.