Almond butter is a smooth paste made from ground almonds. Despite its name, it does not typically contain any dairy products and is not a true butter; it is soft and spreadable, though, and is very similar to peanut butter, a paste made from peanuts that is familiar to many people. It comes in several variations, including crunchy, smooth, roasted, and raw. It can be higher in fat than other nut butters, but also tends to have a lot of helpful vitamins and minerals. The butter is widely available in most places as a prepared food, and many people also find that it is relatively simple to make at home.
How It's Made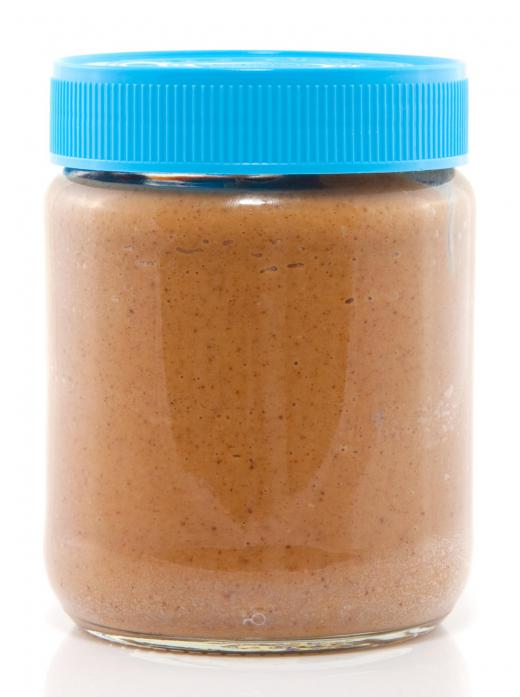 The simplest butters are made from but one ingredient: almonds. Commercial manufacturers often use an industrial-grade nut grinder to blend the nuts into a smooth paste, but home cooks can usually get similar results with a food processor or heavy-duty blender. The important thing is that there is enough pressure to completely pulverize the nuts, which leaves behind a combination of powder and natural oil. Some cooks soak the almonds before grinding them in order to soften them up, but this isn't usually required to get a coherent paste. Most of the time, the sheer force of the grinding will expel the nuts' oils and will bind the fragments into a creamy whole. Cooks can add a bit of extra oil to help improve consistency or texture, but grinding alone is usually all it takes.
Different Styles
There are many different ways to vary the basic recipe. The creamiest butters are usually made from almonds that have been blanched, or boiled, which usually removes their fibrous skin. Though the skin has a number of nutrients, it is also somewhat tough and can lead to a grainier texture. Roasting or seasoning the nuts before grinding can also be an interesting way of adding flavor to the end result. The mildest tasting butters are usually made with raw, unprocessed almonds.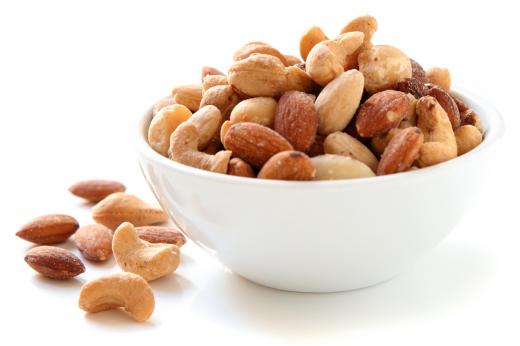 Most of the almond butters sold commercially are labeled "smooth," which means that they don't contain any large pieces and have a more or less uniform consistency. "Crunchy" or "textured" butters, on the other hand, tend to have chunks of nut, or at least more identifiable particles. The biggest difference between the two is the amount of time spent grinding. The more finely the nuts are processed, the smoother the end result in most cases.
The butter can also be emulsified or non-emulsified, a characterization that has to do with the way the oils in the final product are treated. The most natural versions, including the majority of those that are homemade, are non-emulsified. This means that the oils will separate from the nut particles over time. While not a problem, this does mean that consumers will have to stir the butter before it can be used if it has been sitting for a while. Emulsification is a process that binds the butter together more permanently, usually with the help of a chemical stabilizer. These sorts of butters don't normally need to be stirred, as they will stay more or less blended no matter how long they sit still.
Common Uses
People often use almond butter as a spread for bread or rolls, and it can also be used in baking. It is a popular addition to sandwiches, baked desserts, and blended drinks like smoothies. Some people also eat it on its own as a high-energy snack, or serve it as a thick dip for fruit. Those who are allergic to peanuts will sometimes substitute almond butter for peanut butter, and the two can be used almost interchangeably.
Where to Find It
Many mainstream grocers sell almond butter, and it can be found near other nut spreads, jams, and jellies in most large supermarkets. Health food and specialty shops frequently also stock it, and it can sometimes be found direct from almond growers, too. Farmers in many places blend their own to sell either out of their individual shops or at farmer's or community markets. Making it at home is also an option, and has the added benefit of letting the consumer control the composition, texture, and ingredients.
Nutritional Information
In most cases, almond butter has the same nutritional profile as the almonds that go into it, which makes it a good source of protein, fiber, and many different vitamins and minerals. This also means that it can be relatively high in saturated fat, though. Health food experts often describe almonds and other tree nuts as containing so-called "good" fats that can help improve blood sugar and cholesterol levels, but this does not automatically mean that it's a good idea to eat them in excess. Almond butter usually contains more calories and fat then other comparable products like peanut butter or cashew butter.
In general, butter made from raw almonds and little else is the healthiest. Any seasonings, extra oils, or chemical preservatives can alter not only the taste but also the nutritional profile. Adding a lot of salt, for instance, can make almond butter particularly flavorful, but also adds a lot of sodium to something that was almost completely salt-free at the start. Consumers who are worried about extra ingredients or additives should take the time to read all labels carefully.
Storage Suggestions
Products that have not been emulsified usually need to be refrigerated, and even then tend to spoil relatively quickly. Most food experts recommend using fresh or homemade almond butter within about a week. It will typically need to be stirred before use to mix the oils back into the solids; cooks often find that this goes faster if the jar is stored upside-down, which many say helps things stay blended. Versions that have been emulsified, particularly those with chemical preservatives, usually have a longer shelf life and can often be stored at room temperature quite successfully. It is still usually a good idea to use them somewhat quickly after opening them, but this is more to prevent the growth of bacteria introduced by spoons and spreaders than to prevent the product from spoiling.
AS FEATURED ON:
AS FEATURED ON:








By: Sander

A small jar of smooth almond butter.

By: Dmitry Rukhlenko

Almonds.

By: JJAVA

Many almond butters are made solely of ground almonds and contain no preservatives.

By: Kimberly Reinick

Almond butter might be used in place of traditional peanut butter in cases where children have an allergy.