What Is Banana Cake Frosting?
Banana cake frosting is any kind of frosting infused with banana flavor, either from artificial extracts or mashed, fresh bananas. Some varieties of this icing contain only banana flavoring, while others include additional fruit flavors for an exotic twist. Most kinds of banana cake frosting may be used on many different kinds of desserts and pastries.
Recipes for banana cake frosting generally start with about 1 part butter or vegetable shortening and up to 3 parts powdered sugar. Cooks typically add one mashed banana to the recipe for each part butter or shortening used. This means a banana cake frosting recipe that uses 3 parts butter requires about three small-to-medium mashed bananas. Very ripe bananas, with brown or black peels, usually work well. Their sugars are typically very developed and they often mash easily with a fork.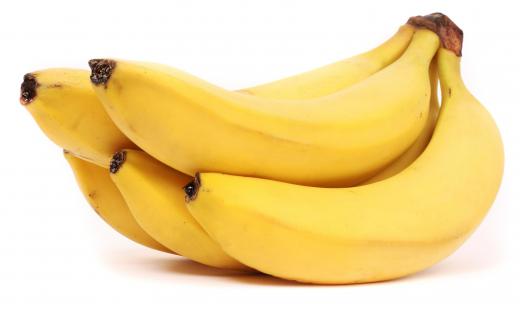 Bakers may also use several kinds of extract in this icing. Vanilla extract usually brings out the flavors of the banana, while banana extract may enhance or replace the mashed banana. The cook may also add a spoonful or two of yellow food coloring to make the frosting look bright and appetizing. The ingredients are generally mixed with a hand blender or a stand mixer, and spread right onto a cake.
Cooks who want to give their banana cake frosting an extra kick of flavor may choose from a range of fruits and extracts. A simple scoop of peanut butter, caramel, toffee, or cocoa powder could give the frosting a special touch. Crushed pineapple typically gives banana cake frosting a tropical flavor, as does shredded coconut or fresh papaya. Any of the above combinations could liven up sugar cookies or sweet corn bread.
Most kinds of banana cake frosting usually taste good on vanilla, peanut butter, or chocolate cakes. It might also go well with pumpkin or sweet potato pastries, especially if the baker wants to give his or her dessert an exotic twist. This frosting could also work well on spiced muffins, carrot cake, and caramel brownies. When warmed, it can be poured over caramel ice cream for an especially decadent treat.
Bakers who don't have time to whip up homemade banana cake frosting might find a serviceable product at the grocery store. Commercial banana frostings are often very brightly colored and extremely sugary. Those that want to counteract some of the sweetness, or simply make the frosting their own, may add in any of the above flavors. Simply stirring fruit and other ingredients into store-bought cake frosting might make it taste more like homemade.
AS FEATURED ON:
AS FEATURED ON:








Bunch of bananas.

By: VL@D

A stand mixer may be used to mix ingredients for banana cake frosting.

By: uckyo

A small spoonful of peanut butter can be a great addition to banana cake frosting.